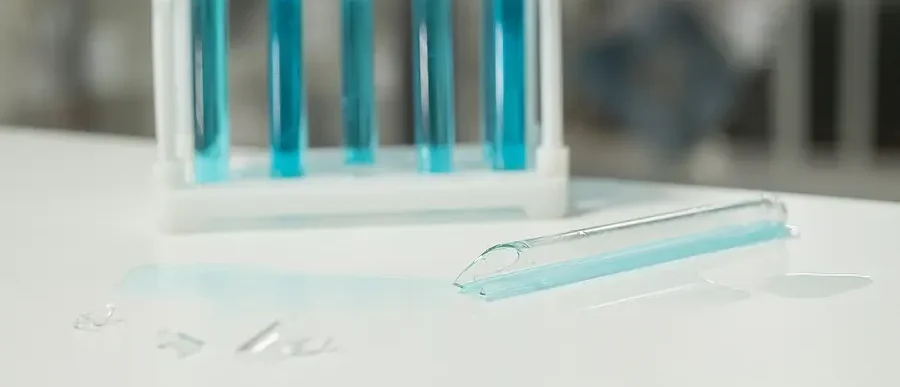 Medical waste comes in many forms and materials that require special handling to ensure the safety of patients, medical professionals, and the public. Federal and state government agencies including OSHA, the CDC, the EPA, the DEA, and the Department of Transportation determine disposal protocols.
The EPA is the primary source of information for medical waste management, while OSHA outlines the appropriate measures for discarding regulated medical waste items. Regulations exist to protect the generators of medical waste, waste workers, the general public, and the environment.
While certain medical waste items are easy to identify and categorize, some are difficult to place. Glass used in a medical facility is one of those items. Knowing the proper handling and disposal requirements of glass, broken or intact, will reduce the risk of injury and illness for yourself and others.
Broken Glass & Sharps Waste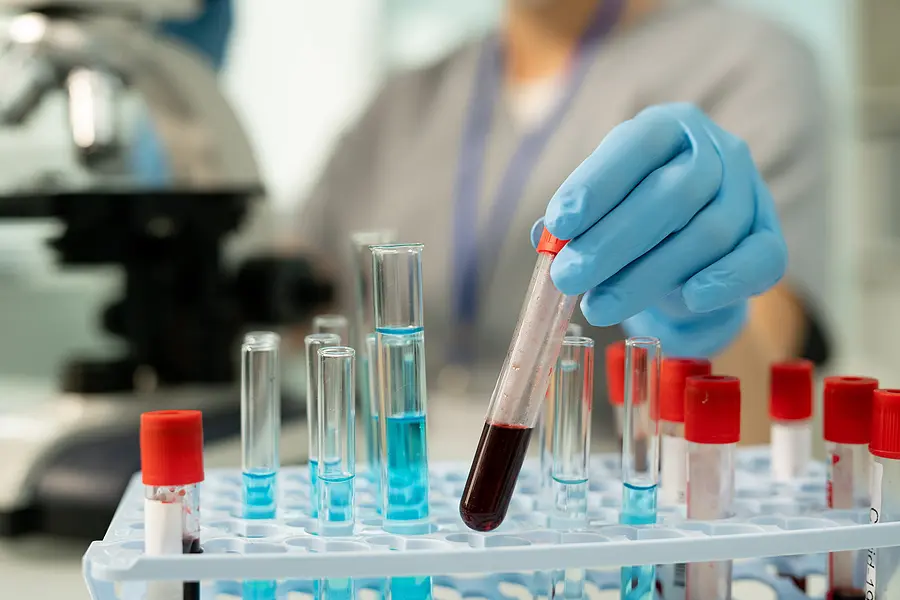 The glass used in medical facilities, whether it is broken or not, should be discarded as a sharp. Sharps are any item that can prick, slice, or penetrate the skin; potentially spreading infectious agents. Even intact glassware can be broken in the disposal process, slice through a waste bag, and injure or infect someone. Handling glass as sharps waste prevents the risk of harm.
All glassware used in a medical setting should be considered sharps waste. Here are some common glass items the medical field uses:
Test tubes
Vacutainer tubes
Capillary tubes
Syringes
Vials
Droppers
Slides
Other glass lab materials
Exposure Control
Exposure to bloodborne pathogens can have serious consequences for your health. Sharps injuries can transmit infectious diseases like HIV, Hepatitis B, and Hepatitis C. If you experience a sharps injury (also referred to as a needlestick injury) in a medical setting or elsewhere, you may need a post-injury assessment, vaccine, or course of preventive medication.
Following best practices will reduce your chance of a sharps injury. Take the following steps to protect yourself and those around you:
Complete annual training on bloodborne pathogens
Always wear gloves when handling sharps
Immediately dispose of sharps in designated sharps containers
Use FDA-approved sharps disposal containers
Always dispose of sharps the same way
Never leave exposed sharps unattended
Follow community guidelines for the disposal of sharps containers
Keep sharps and sharps containers out of reach of children and pets
Properly seal and label sharps containers for disposal
How to Dispose of Broken Glass
When dealing with situations involving broken glass, you will need to know safe handling procedures, the necessity of personal protective equipment (PPE), and the importance of obtaining prompt treatment for any injuries.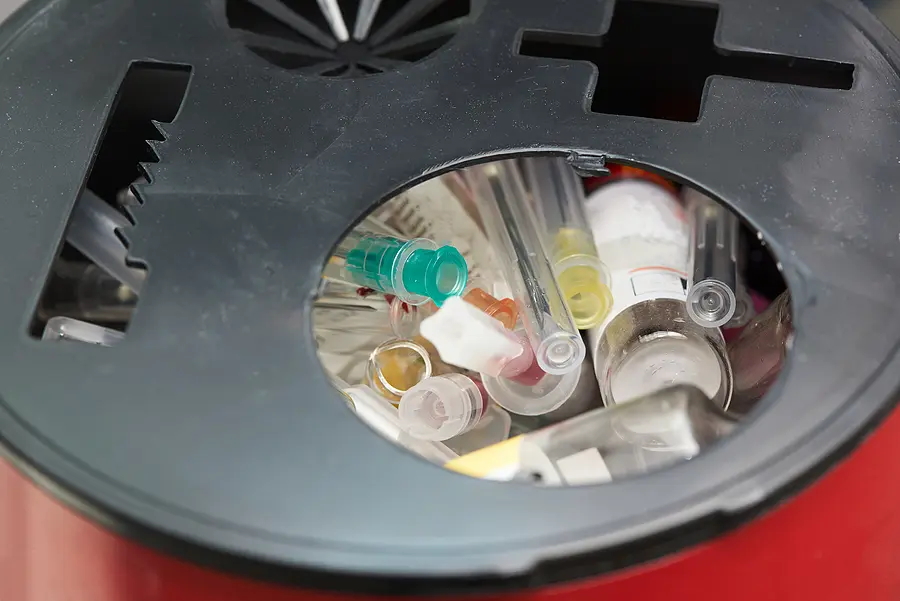 Injury Prevention – You should handle and store glass items in safe areas to prevent accidental breakage. You should wear appropriate gloves and eye protection if there is a possibility of glass breaking or other hazards. Point sharp edges away from yourself and others. You should never place broken glass into the trash or recycling bin, or flush down the toilet.
Clean Up – You can collect glass particles with pieces of cardboard. Pick small shards up with several thicknesses of wet paper towels. Do not us cloth napkins, towels, sponges, and mops (unless immediately and properly disposed of) because they can hold onto tiny glass particles. Forceps, a broom/dustpan, or a rubber squeegee may be used in some cases.
Disposal – Broken and discarded glassware should be separated from other waste materials and immediately placed in an approved container. When sharps containers are three-quarters full, they should be sealed and prepped for disposal. Dispose of used sharps containers as approved by your local health department. Here are some sharps disposal options:
Sharps Collection Sites
Mail-back Programs
Medical Waste Pick-up Services
Follow up – If an injury has occurred follow your Exposure Control Plan. The plan should include how to provide immediate medical treatment for potential exposure, first-aid procedures, and post-exposure evaluations. Complete the proper paperwork including a sharps injury log and hepatitis B vaccine declination.
Find Sharps Disposal Services Near You
Safely dispose of broken glass with safe and reliable sharps disposal services. Mail-back systems, scheduled pickups, and collection sites are available nationwide through our reliable medical waste partners. Simply, contact us by calling (888) 755-6370 or fill out the form to find services near you. We will send you free, no-obligation quotes in just minutes.