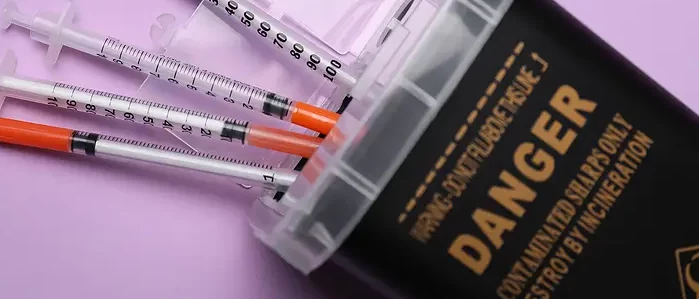 The term "sharps" refers to a number of medical instruments that have the ability to cut, pierce, or puncture. Commonly used sharps are needles, syringes, and lancets. Sharps can be generated by many sources including medical clinics, healthcare related businesses, tattoo shops, and homes treating medical conditions.
Sharps are typically used to deliver medication or transfer fluids to or from the body. Because of this, sharps can become contaminated with diseases like HIV and hepatitis. Sharps can also easily cut through waste disposal bags, potentially exposing handlers and sanitation workers to illness and injury.
Safe collection of used sharps can be done easily with the right disposal containers. Sharps containers are tougher than bags and sealed for safekeeping. They protect anyone that may come in contact with your sharps after you have used them.
FDA Approved Containers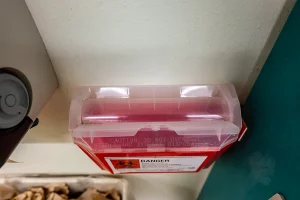 The Food and Drug Administration (FDA) has evaluated sharps containers to reduce the risk of injury and infection from sharps. Their approved containers must have with the following features:
Made of heavy, rigid plastic
Include a tight-fitting, puncture-resistant lid
Include a proper label to warn of hazardous waste inside
Come marked with a line to indicate when the container is full
Remain stable and upright during use
BE leak-resistant
Approved containers are available from pharmacies, medical supply companies, and even Amazon. They come in a variety of sizes, including travel sizes that can easily fit in a backpack or purse. 
There are personal size options available, including 1 quart , 5 quart, diabetic travel needle disposal, and needle clippers.
If an approved container is not available, some areas allow a heavy-duty plastic household container to be used as an alternative. An example would be a laundry detergent jug. It should have the same features as an approved container and never be filled more than ¾ of the way full. 
Disposal of Sharps Containers
Sharps containers come in two main categories, single-use and reusable. Single-use containers are disposed of with the sharps inside. They are commonly used with mail-back programs or drop off services. Reusable sharps containers are emptied and sterilized before being returned for reuse. They are common with ongoing sharps disposal services.
Sharps disposal guidelines will vary based on your location, so be sure to check local regulations to maintain legal compliance. There are several sharps disposal programs available for secure disposal of your sharps containers.
Drop Off Collection Sites
Sharps drop off services provide safe collection sites for full sharps containers. Find collection sites in your area, bring in your containers during business hours, and your sharps will be disposed of properly. Drop off services are affordable and easy for small-scale sharps disposal.
Mail-Back Programs
Mail-back programs allow you to fill your containers, package, and send them in on your schedule. You will be provided with all the materials you need including disposal containers, bag liners, and USPS-approved return boxes. Mail-back services eliminate extra costs and ensure secure destruction.
Pick-Up Services
Pick up services are best for large-scale sharps disposal. Trained waste management professionals will collect your sharps containers on a regular pick up schedule to safely dispose of your waste.
Once your sharps have been received, they will be taken to specialized waste disposal unit that is permitted for the treatment of regulated medical waste. They will be treated by autoclaving or incineration. Autoclaving uses steam sterilization (high heat) before the waste is moved to a landfill. Incineration uses a controlled burn sterilize and destroy waste.
All of the above sharps disposal methods will keep you and your community safe from hazardous waste and the spread of disease. Your dedication to proper disposal methods reduces your liability, protects workers, and fulfills legal regulations.
Get Free Quotes on Sharps Containers and Sharps Disposal Services Today
Medical Waste Pros is here to assist you in each step of sharps disposal. We can connect you with sharps container providers and disposal services in your area. Just give us a call (888) 755-6370 or fill out the form and we will find services to fit your needs. Within minutes, our reliable medical waste disposal companies will contact you with free, no obligation quotes on local services.