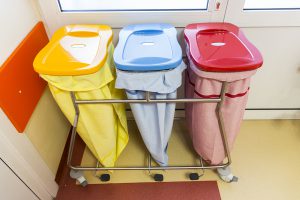 Doctor's offices and Retail Clinics deal with thousands of patients a year- and virtually every patient contact requires disposal of some type of medical waste, from syringes to cultures to contaminated gloves. Since these items can't be simply thrown away, it's up to the clinic and office to find a reliable, safe system to dispose of all the medical waste they produce.
Medical Waste Pros can help minimize the expense, ensure compliance, and help you manage your medical waste properly. We can help you dispose of regulated medical waste, pharmaceutical waste, and more.
Regulated medical waste for doctor's offices and clinics Includes:
Human pathological waste,
Blood or any related blood products,
Sharps (Needles, Syringes, and other sharp materials),
Microbiological materials, including slides and other glassware, and
Any other items/materials that could be or are contaminated with infectious agents
Although the regulations and requirements for doctor's offices and retail clinics vary by state, in most cases using a medical waste disposal company is the most affordable and efficient way to handle medical waste. Medical Waste Pros will find a local provider to help you dispose of, transport, and decontaminate your medical waste.
Let Medical Waste Pros help your practice with your medical waste disposal—we can:
Reduce your liability,
Ensure you're in compliance with all local, state, and federal laws,
Connect you with a reliable local medical waste removal professional, and
Get you free, no obligation quotes on service in your area today!
Get Free, No Obligation Quotes on Medical Waste Disposal Today!
Medical Waste Pros can help you find a reliable local provider to help you with medical waste disposal and medical waste management for sharps disposal, regulated wastes, biohazard disposal, and more. To get started, fill out the form to the right, or give us a call at (888) 755-6370. Within minutes, we'll get you free, no-obligation quotes within minutes!