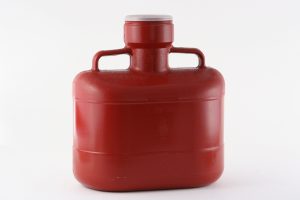 There are severe regulatory fines and serious medical dangers to disposing of regulated medical waste improperly. To prevent the spread of infectious diseases and keep in compliance with local, state, and federal regulations, you need to ensure that you select a medical waste disposal company that can help you dispose of your medical waste safely and securely.
Medical Waste Pros will connect you with a local, reputable medical waste disposal company in your area that can help you with regulated medical waste disposal for your company as often as you need it.
Regulated Medical Waste Defined
There are several things that are categorically defined as regulated waste, including:
Items saturated with blood or Other Potentially Infectious Materials (or OPIM)
Containers, catheters, or tubes containing blood, blood products or OPIM
Surgical specimens
Dialyzers and tubing
Microbiology specimens, used culture plates, tubes, bottles and devices
Blood spill clean-up materials
Needles and syringes, scalpel blades, lancets
Glass pipettes, slides and tubes
Broken glass
Staples and wires (Cardio-catheter wires)
Disposable suture sets and biopsy forceps and more
What Are the Different Kinds of Regulated Waste?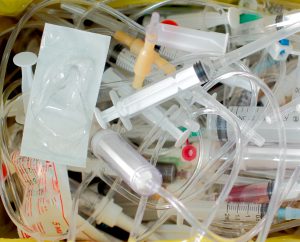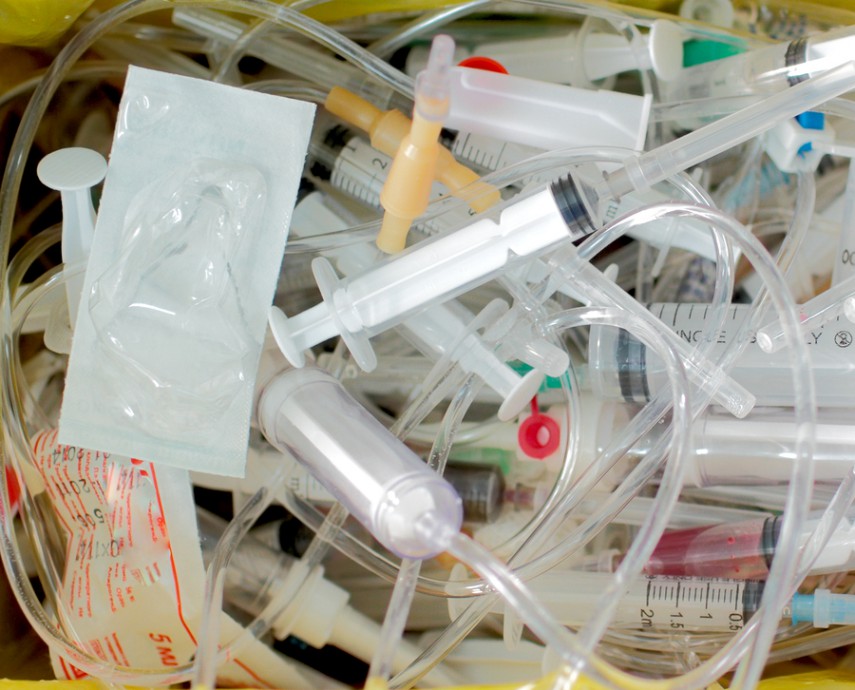 Six kinds of medical waste are usually regulated at the state level, and need to be handled, managed, and disposed of properly based on OSHA regulations, State mandates, and personal safety of your employees, patients, and customers.
Pathological Waste
Pathological waste includes all human anatomical wastes, tissues, organs, or body parts that are intended to be disposed of, regardless of what medical procedure was performed.
Human Blood and Blood Products
This category includes any type of blood disposal (including serum, plasma, and other components) and human body fluids, including any bodily fluids that are visually contaminated with blood or fluids where it might be difficult or impossible to differentiate between body fluids and blood.
Cultures and Stocks of Infectious Agents
Also known as microbiological waste, this type of waste generally originates from clinical or research laboratory procedures involving communicable infectious agents. It could include specimens from medical and pathology laboratories, culture dishes, devices used to transfer, inoculate, and mix, or discarded live and attenuated vaccines.
Contaminated Sharps
Sharps waste includes any item that can induce subdermal inoculation of infectious agents that can easily penetrate the skin, puncture waste bags, and cardboard boxes that were used in medical, research, or industrial laboratories on animals or humans.
Isolation Waste
Isolation wastes are any type of waste that has potentially been contaminated with a highly communicable disease. It's usually generated by hospitalized patients or animals isolated to protect others from communicable diseases.
Contaminated Animal Carcasses, Body Parts and Bedding
From animals intentionally exposed to pathogens in research, biologicals production, or in vivo pharmaceuticals testing.
Get Free, No Obligation Quotes on Regulated Medical Waste Disposal Today
Medical Waste Pros can help you find a compliant regulated medical waste disposal company right in your area. We'll help you select the containers, schedule, and system that works best for your organization. To get free quotes on regulated waste disposal, fill out the form to the right, or give us a call at (888) 755-6370.