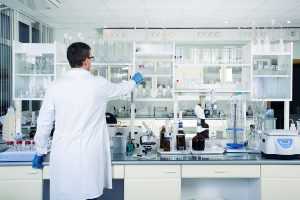 OSHA and state regulations mandate that anyone who produces medical waste that could contain bloodborne pathogens and other biohazardous materials take the proper steps to prevent infectious materials from coming in contact with employees, sanitation workers, and transporters.
This is particularly critical for laboratories and blood banks- they handle biohazard and medical waste regularly. Any items that came into contact with blood or any other regulated waste need to be properly secured, disposed of, transported, and destroyed.
Definitions of Laboratory and Blood Bank Regulated Waste
OSHA's Bloodborne Pathogens Standard, 29 CFR 1910.1030, has provisions for the protection of employees during the containment, storage, and transport of regulated waste other than contaminated sharps.
The bloodborne pathogens standard defines regulated waste as:
Liquid or semi-liquid blood or other potentially infectious material (OPIM),
Contaminated items that would release blood or OPIM in a liquid or semi-liquid state if compressed,
Items that are caked with dried blood or OPIM and are capable of releasing these materials during handling,
Contaminated sharps, and/or
Pathological and microbiological wastes containing blood or OPIM.
The Standard also states that regulated wastes other than contaminated sharps must be placed in containers that are:
Closable,
Constructed to contain all contents and prevent leakage of fluids during handling, storage, transport, or shipping,
Labeled or color-coded in accordance with paragraphs, and
Closed prior to removal to prevent spillage or protrusion of contents during handling, storage, transport, or shipping.
In addition to this OSHA Standard, there may be additional state regulations that need to be considered.
Stay Compliant with Reliable Medical Waste Disposal Services
Medical Waste Pros can ensure that your laboratory or blood bank is in compliance with all state and federal regulations. We'll connect you with a local medical waste disposal company that can schedule regular pickups of your regulated medical waste and ensure that it is disposed of properly. They'll provide you with the proper containers to ensure no bloodborne pathogens contaminate your worksite or your employees.
Get Free, No Obligation Quotes on Regulated Medical Waste Disposal Today!
Medical Waste Pros can help you find a reliable local provider to help you with medical waste disposal and medical waste management for sharps disposal, regulated wastes, biohazard disposal and more. To get started, fill out the form to the right, or give us a call at (888) 755-6370. Within minutes, we'll get you free, no obligation quotes within minutes!