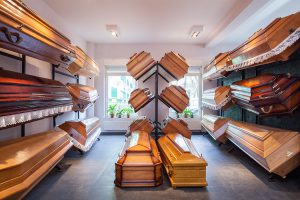 Since Funeral homes deal with human beings that have passed on for many different reasons, they have stringent regulations and requirements that a healthcare facility or any company that produces medical waste.
Funeral home workers have the potential to be exposed to communicable and non-communicable diseases, chemicals, internal body fluids, and other things that could cause harm to themselves and the environment.
Medical waste in the funeral industry can include blood, medical devices, body parts, sharps, chemicals, pharmaceuticals, and radioactive materials.
What Other Things in a Funeral Home is Considered Medical Waste?
There are also some additional examples of materials and chemicals that are considered medical waste that mortuaries and funeral homes use regularly, including:
Incision needles
Formaldehyde
Phenol
Methanol
Scalpels
Trocars
Scissors
Arterial tubes
Cannulas
Swabs, dressings, and other fabrics that come into contact with a body
All items that come in contact with a deceased body need to be handled and disposed of properly- this includes using the appropriate sharps containers and medical waste disposal systems to ensure that any materials that could spread disease are no threat to employees, sanitation workers, or the general public.
Utilize Medical Waste Pros for your Funeral Home's Hazardous Medical Waste Disposal
Each funeral director takes personal responsibility to ensure the proper disposal of the wastes generated based on federal, state, and local regulations. By partnering with a professional medical waste disposal company, you can minimize the risk of non-compliance, and ensure the safety of your employees and visitors.
Medical Waste Pros can help you find a local provider that can provide medical waste containers, regularly scheduled pickups, and mail-back systems, and ensure that you are in compliance, and protecting your employees to the best of your ability. Get a free quote today!
Get Free, No-Obligation Quotes on Medical Waste Removal Services Today
Medical Waste Pros can help you find a reliable local medical waste removal provider for sharps disposal, regulated wastes, biohazard disposal, and more. To get started, fill out the form to the right, or give us a call at (888) 755-6370. Within minutes, we'll get you free, no-obligation quotes within minutes!