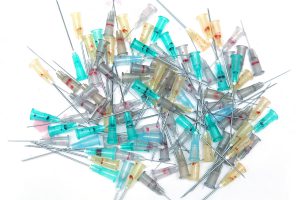 Sharps are generally defined as any Item that can prick, slice, or penetrate the skin or can puncture waste bags and cardboard boxes that could potentially spread infectious agents- specifically Hepatitis B (HBV), Hepatitis C (HCV), and Human Immunodeficiency Virus (HIV).
Generally, Sharps that have been used or are intended to be used for human or animal patient care in medical, research, or industrial laboratories, including:
Hypodermic needles
Pasteur pipettes
Syringes with and without needles
Scalpel blades
Lancets/"fingerstick" devices
Auto-Injectors
Infusion sets
Exposed ends of dental wires
Root canal files
Connection needles/sets
Razor blades
Suture needles
Acupuncture needles
Blood vials
Culture dishes and slides
Trauma scene waste that can cut, slice or pierce
Broken glass from the laboratory including slides and slide covers and more
Medical Waste Pros offers sharps disposal services from reputable local providers. From supplying containers and mail-back systems for the safe disposal and transport of sharps to regularly scheduled pickups, our professional contractors will help ensure you're compliant with all local, state, and federal laws.
Click the Links below to Learn More about Our Sharps Services:
Get Free, No-Obligation Quotes on Sharps Containers and Sharps Disposal Services Today
Medical Waste Pros will connect you with a safe, reliable local Sharps disposal provider to help you purchase a Sharps Disposal Container or schedule pickup and disposal for Sharps items. They can recommend the best disposal system for your needs, from a mail-back system to regularly scheduled pickups. To get started, fill out the form to the right, or give us a call at (888) 755-6370. Within minutes, we'll get you free, no obligation quotes within minutes!