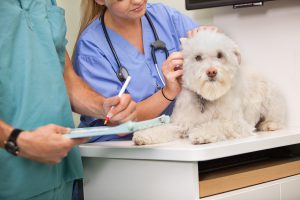 Veterinarians have the same regulations and requirements that healthcare facilities, dentists, and other organizations when it comes to disposing of medical waste related to their patient care.
Any company or facility that produces medical waste needs to ensure that they follow the state and federal regulations- but the most important things to ensure you're in compliance is to ensure your waste is packaged properly, manifested and documented, and transported properly.
Make Sure You're In Compliance with State and Federal Laws
To avoid large fines that could be levied as often as every day for every instance, it's vital to ensure you partner with a professional medical waste disposal company for your veterinary practice. That's where Medical Waste Pros can help.
We'll provide free, no obligation quotes on medical waste disposal services anywhere in the United States. We can help you select the right medical waste disposal system to use for your practice, and can even help you with any of these services, including:
Animal Carcass Removal
Animal Waste Disposal
Drug and Chemical Disposal
Medical Waste Disposal
Radiological Waste Disposal
We can also provide you with a compliant mail-back system if you only generate a small amount of medical waste per month. Our experts will help you track, properly handle, and dispose of your medical waste efficiently and quickly.
Get Free Quotes on Veterinarian Medical Waste Disposal Today
Medical Waste Pros can help you develop a program that ensures you comply with all required regulations, and even assist you in finding a professional medical waste disposal company right in your area to help you with training and proper medical and prescription disposal management.
We'll help you select the containers, schedule, and system that works best for your organization. To get free quotes on common medical waste disposal, fill out the form to the right, or give us a call at (888) 755-6370.