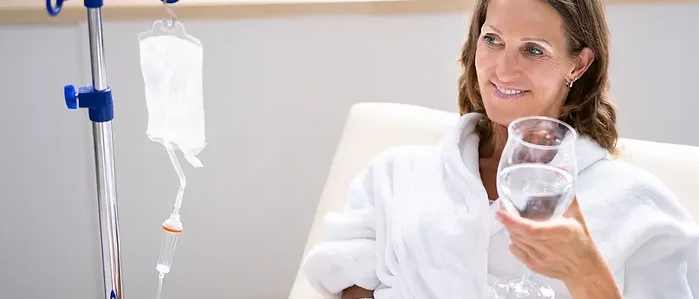 Visiting an IV Bar or Hydration Shop is a growing trend that offers intravenous fluids to treat a number of ailments. Typically, the fluids include vitamins, supplements, and medicines mixed with saline to rehydrate and relax customers. IVs are administered by medical professionals in a spa-like atmosphere or by a mobile company that can visit your home or office.
IV drip therapy is popular because they allow you to seek out hydration treatments without having to see a doctor. They are used to alleviate a range of symptoms including:
Hangovers
Fatigue
Dehydration
Jet lag
Flu symptoms
Migraines
Anxiety
Acute asthma
Allergies
Nausea and vomiting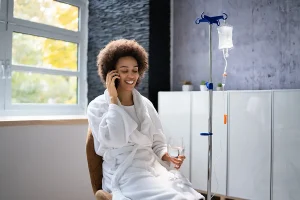 The wellness benefits are numerous: pain relief, improved immunity, enhanced mental clarity, clearer skin, increased energy, and boosted metabolism. The cost of an IV infusion is much less than an emergency room visit and saves you from waiting for hours to see a doctor and fill a prescription. This makes IV therapies a better, more cost-effective option for mild illnesses like food poisoning.
What is Available at an IV Bar?
IV drips offer potent vitamins and medicine, including:
B vitamins
Vitamin B12
Vitamin C
Magnesium
Glutathione
NSAIDs
Zinc
Myer's Cocktail
Toradol
Antacids
Taurine
Glycine
Phentermine and more
Offering medication and IV treatments creates medical waste. Safe handling and disposal of medical waste are required and necessary to maintain cleanliness and legal compliance. Medical Waste Pros can help you build a medical waste disposal system that protects your staff and customers.
Types of Medical Waste Generated in an IV Bar
Common types of medical waste generated by Hydrations Bars include:
Your staff should be trained to recognize, handle, and segregate medical waste properly. Careful handling will keep your environment safe and promote a positive reputation for your company.
Disposal Solutions for Your Hydration Bar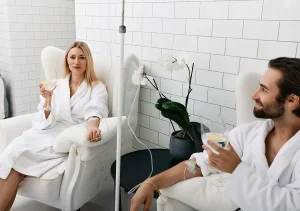 Medical Waste Pros offers medical waste solutions for businesses across the country. Medical waste regulations vary by location and can be complex. We will help you create an effective waste management system that stays compliant with the ever-changing list of regulations.
Scheduled services are ongoing to maintain regular medical waste disposal. We offer a variety of frequencies to meet your needs. All pickups are tracked and secured for your records.
One-time Service
A one-time service can be scheduled as needed. This is a good option for facilities that don't need pickup on a regular basis or only have small amounts of medical waste.
Sharps drop-off services are available at collection sites in your area. You can drop them off as needed for quick and secure disposal. Our drop-off services comply with the FDA, OSHA standards, and local medical waste regulations.
Let Us Help with Your IV Hydration Bar Disposal Needs
Medical Waste Pros partners with experienced providers nationwide. We have reliable service options that will safely handle all kinds of medical waste. Find medical waste removal services near you by calling us at (888) 755-6370 or filling out the form. Within minutes, we will connect you with medical waste providers and send you free, personalized quotes.