Ensuring your facility or practice is compliant with all OSHA and State regulations is one of the best reasons to choose a provider in Medical Waste Pros' Nationwide network.
Our pre-screened network of medical waste disposal companies can provide secure, dependable pickup services for regulated or infectious waste, sharps disposal, bio-hazardous and radioactive waste, and any other common waste disposal (paper, liquids, etc).
Medical Waste Pros can provide service to every industry, but we specialize in medical waste pickup and removal for these facilities:
Click here to check out other industries we serve.
We'll help you figure out the right containers, boxes, bags, pickup schedule, and provider that works best for your level of disposal. We offer free, no-obligation quotes from local experts that will provide you with a quick, easy way to reduce your liability and reduce costs associated with medical waste disposal for your company or practice.
Medical Waste Disposal Services when you need them
There are several OSHA-Compliant services to help you manage your medical waste better.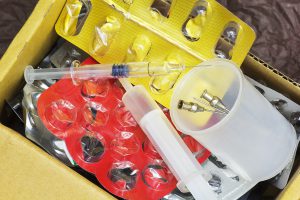 The three most popular options are regularly scheduled/routine pickup service, on-call pickup, or mail-back service.
If you have a significant amount of medical waste to dispose of, our regularly scheduled service allows you to plan for ongoing pickup of medical waste—we schedule a time with your facility and will pick up and dispose of your medical waste based on your schedule, no matter if it's daily, weekly, monthly or quarterly.
All pickups are tracked and secured, and we can offer you provide a manifest for tracking and a certificate of destruction for your records.
A mailback system is another safe, secure option to dispose of your medical waste properly. Each system includes all the components required to package your medical waste to be disposed at a secure facility. Utilizing a mailback system is an efficient way to collect, return and dispose of any type of medical waste.
We typically offer mailback options for smaller quantities of sharps, soft medical waste, amalgam, and mercury, but you can utilize a mailback system for any amount of medical waste.
We also offer on-call service for emergencies or facilities that don't need medical waste pickup on a regular basis (or only have a small amount that needs to be collected periodically). This service is identical to our regularly scheduled service, but can be scheduled periodically whenever you need it
No matter which system you choose, we'll help you find a local provider that can assist you with the medical waste management that works best for you. Get free quotes today!
Get Free, No-Obligation Quotes on Medical Waste Disposal Services Today
Medical Waste Pros can help you find a reliable local provider to help you with medical waste disposal and medical waste management for sharps disposal, regulated wastes, biohazard disposal and more. To get started, fill out the form to the right, or give us a call at (888) 755-6370. Within minutes, we'll get you free, no obligation quotes within minutes!