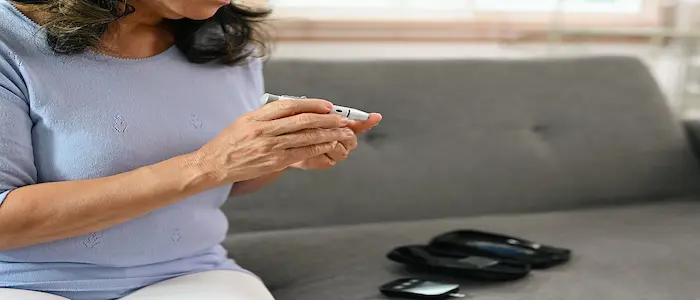 For those living with diabetes and other chronic health conditions, the use of lancets and needles are a factor of everyday life. Estimates put the use of these tools at over a billion a year in the United States alone, which raises an important question. How do you dispose of these lancets and needles when you're done using them?
The answer often depends on your location and access to a sharps disposal container. Since diabetes and other chronic health conditions don't conveniently stop when you're out and about, this can often present challenges. However, there are a few simple methods you can follow to ensure you have access to your treatment, and safely dispose of your used sharps when you're done with them.
How to Dispose of Lancets at Home
While disposing of lancets and needles at home is easier than at a restaurant or shopping mall, it can still present challenges. Sharps require a bit more foresight in their disposal than other common items, as they can cause injuries to those that accidentally come in contact with them.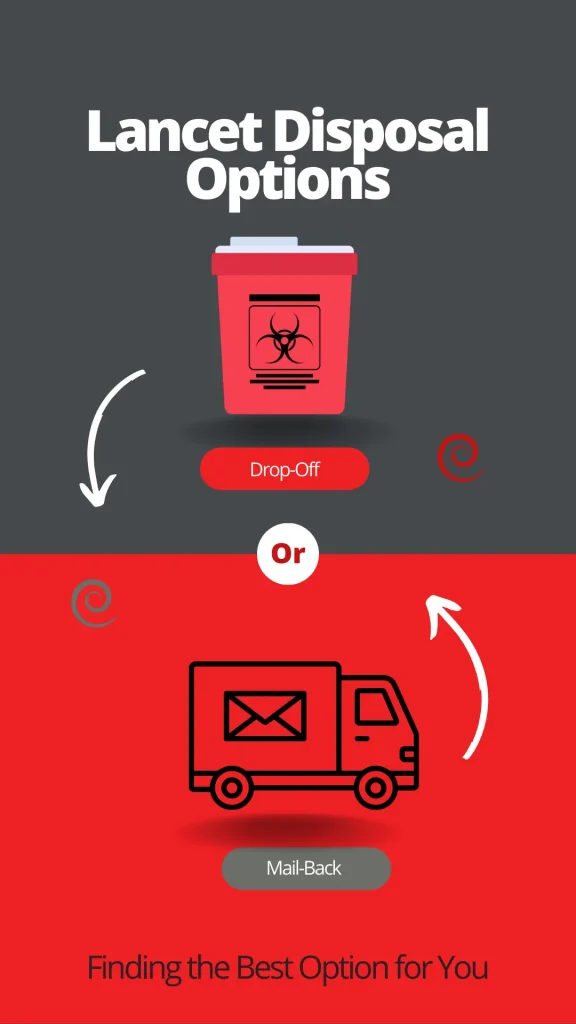 Thankfully, retailers like Amazon, Target, and Walmart all offer purpose built sharp containers. In addition, household containers made of tough plastic can be used in a pinch. Detergent bottles, fabric softener bottles, or any other container made of thick plastic can serve as a makeshift sharp container.
However, if going this route, make sure to label it as a 'sharps container.' This will help you, your family or roommates, and disposal companies take proper care of the container.
Once whatever container you're using is full, you do need to make sure it's properly disposed of. Unfortunately, sharps containers can't go in your normal trash. Instead, they need to be dropped off at a sharps disposal site or shipped back through a sharps mailback service. That being said, it's likely that there's a sharp disposal site that's located near you. 
How to Dispose of Lancets Outside of the Home
Unfortunately for many diabetics, the availability of public sharps disposal containers is incredibly limited. Most restaurants, stores, and malls don't offer them, which leads to difficult choices on how to dispose of lancets or diabetic sharps when outside the home.
This lack of public disposal options typically means the burden falls on you. Dealing with this can be a pain at times, but there's a fairly simple remedy that can solve this, and it's similar to home disposal options. Retailers offer portable sharps containers, which fit in a purse or in a backpack. Small tough plastic or metal containers can also be repurposed to serve as a portable sharps container. 
Once these fill up, you can place them in your larger sharps container at home, or simply dispose of them in the same way as you would your larger container, through a certified sharps disposal site or through a mailback service.
Medical Waste Pros Can Help With All your Sharps Disposal Needs
No matter how you're looking to dispose of your lancets or diabetic sharps, Medical Waste Pros can help. We work with reliable and affordable medical waste disposal partners across the country who offer secure and safe drop-off and mailback services for sharps. Give us a call at (888) 755-6370, or fill out the form on the page, and we'll find a sharps solution that works for you in just minutes.