Safe sharps disposal is important to protect yourself and others from the spread of disease, but also to ensure that you are in compliance with medical waste disposal laws. A safe and affordable disposal option is sharps mail back services.
"Sharps" refers to any object or device that can prick or cut skin or puncture waste bags and boxes. Common examples of sharps are needles, syringes, lancets, and auto injectors. They are used in homes, businesses, and medical offices for many different reasons. Used sharps are classified as biohazardous waste and must be handled and disposed of carefully.
What are Sharps Mail Back Services?
Sharps mail back services are a safe disposal system for your home or office that allows you to pack and ship your sharps directly to a disposal facility. The process is simple, convenient, and most importantly safe.
A sharps disposal provider will send you packaging materials including: designated disposal containers, bag liners, barcode tracking labels, and a USPS-approved return box. Once you have filled and packaged the containers, you will mail them back to the provider.
Your sharps will then be properly disposed of and you will receive confirmation of the destruction. The confirmation can provide peace of mind that your sharps no longer pose a risk for anyone and can be used a proof of proper destruction for legal purposes.
The Benefits of Sharps Mail Back Services
Choosing a safe method for sharps disposal is important for individuals and organizations that accumulate this type of medical waste. Mail back services provide many benefits over other disposal methods. Mail back services are easy, convenient, affordable, safe, and compliant.
Easy
Mail back services are made simple by giving you everything you will need to safely collect and package your sharps for the mail. You will not need to worry about finding secure containers, as they will be provided for you. Also, it does not require any type of complex training. You simply fill the designated containers and put the containers in the USPS-approved box.
Mail back services take away the stress of finding a hospital or pharmacy drop off location and negate the need to transport the sharps yourself. Your package will be picked up by your regular USPS mail service and delivered to the sharps destruction provider of your choice.
Convenient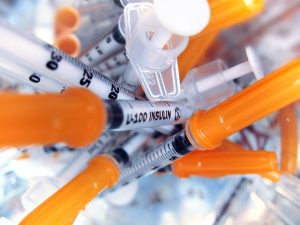 An advantage of the mail back service is that it allows you to collect, package, and send off your sharps on your own time frame. There is no need to schedule pick-ups or coordinate drop offs of your used sharps. You can collect the sharps as needed and mail them back at your convenience.
Mail back services are also helpful because they are not only designed for healthcare providers, but for other businesses and home use. You can receive and use the sharps mail kit at any location.
Affordable
When compared to pick up and drop off services, mail back services save you money on indirect costs. You will save on time and transportation costs, as well as fees associated with pick up. In some cases, waste management and disposal companies may not service your area. If that's case, pick up may not be possible or very expensive.
Safe
Used sharps may contain personal health information (PHI). PHI can be used maliciously if stolen and used to access medical care in the victim's name. With sharps mail back services, that information will be protected and properly destroyed.
Upon destruction of your sharps, a manifest confirmation of destruction will be created. This will detail the destruction process and give you legal proof that your materials have been properly disposed of.
Compliant
Sharps mail back services are compliant with disposal guidelines for regulated medical waste set forth by state and federal laws, HIPAA, OSHA, the CDC and the FDA. Mail back services have also been accepted and approved by United States Postal Service.
Get Free Quotes on Sharps Mail Back Services Near You
Medical Waste Pros has a nationwide network of medical waste disposal providers ready to assist you in safely disposing of sharps and other medical waste. To find out more about sharps mail back services in your area, fill out the form to your right or give us a call at 888-755-6370. We will provide you with free, personalized quotes from providers near you.