Sharps Drop-Off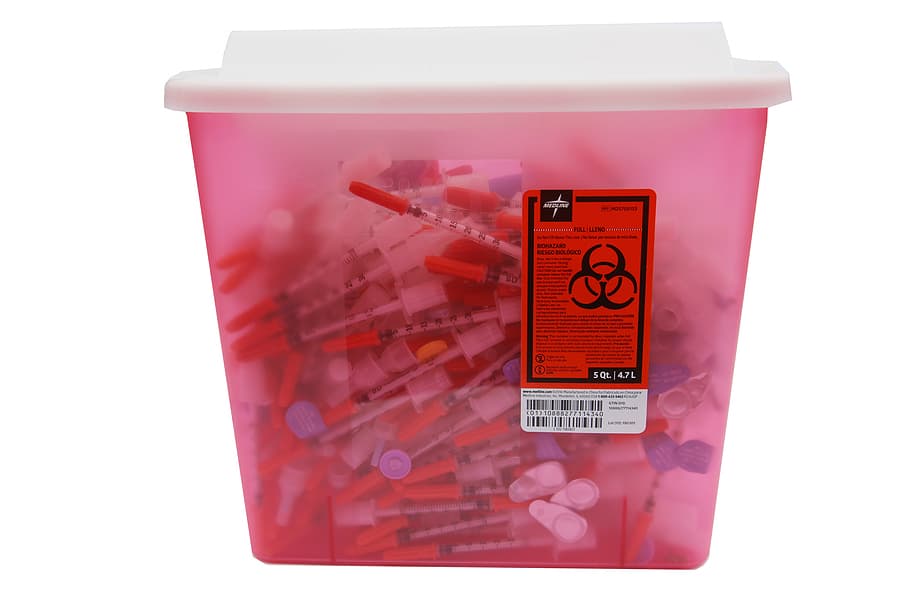 We offer convenient and secure small-scale solutions for sharps disposal, including our Sharps drop-off services provided by Medical Waste Pros. Our aim is to ensure a safe and user-friendly experience for individuals in need of sharps disposal. Through our online drop-off directory system, you can easily locate collection sites in your local area. Once you've chosen a suitable location, you can visit during their business hours to drop off your sharps. This process is efficient, reliable, and available nationwide.
Rest assured that our services fully comply with the standards set by the FDA, OSHA, and all applicable medical waste regulations. At Medical Waste Pros, we prioritize the well-being of small businesses and households, offering compliant and affordable solutions to help you safely dispose of your sharps.
The Importance of Proper Disposal
Medical Waste Pros is dedicated to serving various industries, with a specialization in small-scale medical waste disposal for businesses, homes, and offices. Our services cater to a wide range of establishments, including clinical testing laboratories, tattoo parlors, day spas, and mobile clinics, among others. We understand the unique needs of these industries and provide tailored solutions to ensure safe and compliant waste disposal.
With our drop-off services, you can enjoy the convenience, affordability, and legal compliance that Medical Waste Pros offers. Our solutions make it simple for you to prioritize the safety and well-being of yourself, your staff, and the community by providing effective sharps disposal options. We strive to make the process seamless and hassle-free, allowing you to focus on your core activities while leaving the waste management to us.
Cost 
Depending on the services you need, the pricing can be broken down as the following:
1-1.5 Quart is $15.00 (1-2), $12.00 (3-5), and $10.00 (6+); 1 Gallon or 5.4 Quarts is $35.00 (1-2),$30.00 (3-5), and $25.00 (6+); 2 Gallon is $45.00 (1-2), $40.00 (3-5), and $35 (6+); and Homemade Containers are $15-$30 per container (depending on size)*
Of course, this may fluctuate depending on the location and the process of disposal necessary for your medical waste.
Drop Off Process
Medical Waste Pros is your reliable partner for a comprehensive range of medical waste, sharps disposal, and pharmaceutical waste services in American Fork. Through our extensive network of local service providers, we ensure that you receive secure, affordable, and efficient solutions for your waste management needs.
When it comes to sharps disposal, we offer convenient options to accommodate various quantities. For smaller quantities, we recommend utilizing our drop-off or mail-back solutions. These alternatives provide a safe and accessible way to dispose of sharps, ensuring compliance with regulations and promoting community well-being.
If you have larger quantities of sharps or other medical waste, we have service options specifically designed to meet your needs. Our team will work closely with you to understand your requirements and provide tailored solutions that guarantee effective waste disposal.
With Medical Waste Pros, you can trust that your waste disposal needs will be met with professionalism and expertise. We prioritize the security and well-being of our clients, offering local services that are both convenient and environmentally responsible. Experience the peace of mind that comes with our secure and reliable medical waste disposal services.
How does the drop-off sharps process work in American Fork:
Gather your sharps that need disposal into a secure, approved sharps container. We do not accept any loose sharps, milk jugs, or 2-liter soda bottles.
Bring your sharps to the nearest drop-off sharps center in American Fork, UT
See an associate to pay the drop-off fee
Place your safely stored sharps in the locked bin
A medical waste transporter stops to pick up the contents of the medical waste container
This drop-off location is for low-volume disposal needs, if you have larger amounts of sharps to dispose of, consider the service options below.
Medical Waste Pros is Here to Provide Small Service Solutions
Sharps drop off services are just a click away. Rather than scheduling a large medical waste disposal service, drop off your sharps for safe disposal. We specialize in small-scale medical waste disposal for small businesses and individuals using sharps in their homes. Find a drop off location near you today.
Medical Waste Pros American Fork Location
"
Medical Waste Pros American Fork
321 N 1100 E Ste C
American Fork UT 84003
(435) 557-0829
Our normal business hours are Monday and Wednesday from 9:00 AM to 7:00 PM, Tuesday and Thursday from 11:00 AM to 7:00 PM, Friday from 9:00 AM to 5:00 PM, and Saturday from 9:00 AM to 3:00 PM