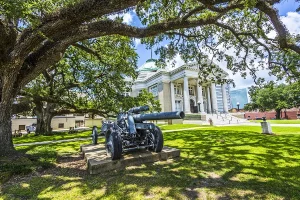 Pharmaceutical waste covers different kinds of drug waste; including over-the-counter drug waste, non-hazardous and hazardous drug waste, controlled drug waste, veterinarian pharmaceuticals, and agricultural pharmaceuticals.
Drug waste should be disposed of properly, not thrown in the trash or flushed down the drain. Pharmaceuticals can contaminate the water supply and espouse humans and the environment to hormones, steroids, antibiotics, and parasiticides.
Medical Waste Pros Lake Charles can help you develop a clear pharmaceutical waste disposal procedure, so your waste will not compromise the soil and water in your community. Give us a call at (225) 341-7456 or fill out the form to learn more about our services and connect with providers near you. We will send you free, no-obligation price quotes on pharmaceutical waste disposal in just minutes.
Pharmaceutical Waste and Its Disposal in Louisiana
Louisiana follows the Resource Conservation and Recovery Act (RCRA) framework for pharmaceutical waste disposal. RCRA has explicit rules that state governments without a hazardous waste program must follow. The regulations cover the generation, transportation, treatment, and disposal of hazardous waste, including pharmaceuticals.
Is My Pharmaceutical Waste Hazardous?
The EPA uses two main descriptors to define hazardous waste, characteristic wastes and listed wastes. Characteristic waste are substances that are known to be ignitable, reactive, corrosive, and toxic. Listed wastes fall under 4 classifications:
F-listed: Wastes from manufacturing and industrial processes. Includes substances like acetone, toluene, methanol, and xylene that may be applicable to healthcare facilities.
K-listed: Wastes from specific industries, can relate to veterinary pharmaceuticals manufacturing.
P-listed and U-listed: Wastes from commercial chemical products, including pesticides and pharmaceuticals.
If your pharmaceuticals are characteristic, listed wastes, or meet any of the below requirements they are considered hazardous.
Medical Waste Disposal for Pharmaceuticals throughout Lake Charles
Many industries handle pharmaceuticals and should be aware of proper handling and disposal. Below is a list of businesses that would require pharmaceutical waste services:
Long-term care facilities, nursing homes, and hospice providers produce many types of medical waste, including pharmaceuticals. Medical Waste Pros offers solutions to all of your medical waste disposal needs.
Pharmacies handle large amounts of pharmaceuticals and require proper disposal services to maintain compliance and safety.
Medical providers will have pharmaceutical waste to dispose of on a regular basis. Medical Waste Pros will safely and securely dispose of your medical waste while reducing your liability.
Hospitals generate every kind of medical waste. Our disposal removal experts make sure that your operations run smoothly and that your waste doesn't pile up over time.
Get Free, No Hassle Quotes on Pharmaceutical and Hazardous Medical Waste Disposal in Lake Charles
Pharmaceutical waste poses a threat to the environment and to the public, even if it is non-hazardous. Proper disposal will keep your community safe and healthy. Contact Medical Waste Pros Lake Charles to connect with medical waste disposal companies in your area. Our services will reduce your liability and streamline your waste management process.
Get started by calling us at (225) 341-7456 or filling out the form.