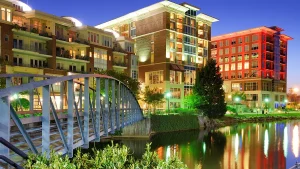 It is important for all facilities that generate pharmaceutical waste to follow local regulations regarding the handling and disposal of medications. Pharmaceutical waste falls into a few different classifications that require different handling. Careful handling and safe disposal reduce risks for human health and exposure to the environment that can cause damage.
Medical Waste Pros Greenville is knowledgeable about pharmaceutical waste and its regulations. We will make sure that your waste is disposed of safely. Our partners can help you find the right containers for your waste and set up a disposal program that is affordable and compliant. Give us a call at (843) 996-1363 or fill out the form to get started right away.
Pharmaceutical Waste and Its Disposal in South Carolina
Standards for handling hazardous pharmaceutical waste in South Carolina can be found in the South Carolina Code of Regulations (R.) 61-79.266.500 to 61-79.266.510. South Carolina follows the federal rules for managing hazardous waste pharmaceuticals and is one of 24 states to operate an approved OSHA program.
Help keep South Carolina safe for everyone with Medical Waste Pros pharmaceutical waste disposal. We will make sure that your medicines do not contaminate the earth, water, or air to protect human health in your area.
Is My Pharmaceutical Waste Hazardous?
Some pharmaceuticals are classified as hazardous and must be handled as such. Your pharmaceutical waste is considered hazardous if it meets at least one of the requirements below:
The material is already regulated by your state environmental agency.
The sole active ingredient in the material is listed as hazardous by the Resource Conservation and Recovery Act (RCRA).
It contains ingredient(s) that result in the pharmaceutical exhibiting characteristics of hazardous waste (corrosive, reactive/explosive, ignitable, or toxic/radioactive).
Medical Waste Pros Greenville stays up to date with all the required regulations for hazardous and pharmaceutical waste, so you don't have to. We maintain legal compliance and correctly dispose of all of your medical waste. We are confident that we can find a disposal company to fulfill your needs in your area today.
Medical Waste Disposal for Pharmaceuticals throughout Greenville
Medical Waste Pros serves many different types of businesses in Greenville with pharmaceutical waste disposal services. Here is a list of businesses that can benefit from our services:
Nursing homes, long-term care facilities, and hospice care providers handle many kinds of medication for their patients on a daily basis. We can help you safely dispose of any pharmaceutical waste generated in these facilities.
Pharmacies handle a wide range of medications. We will help you manage pharmaceutical waste with convenient and affordable services.
Private practices and medical clinics serve patients with many different medical conditions. We will keep your office clean and safe with our medical waste disposal experts.
Hospitals generate large volumes of medical waste, including pharmaceutical waste. Our services will make sure that your waste does not pile up and that your facilities remain clean and safe for your patients.
Get Free Quotes on Pharmaceutical and Hazardous Medical Waste Disposal in Greenville
Pharmaceutical waste can be very damaging to the environment and human health. You can help keep the Greenville community safe with proper disposal services from Medical Waste Pros. Simply, call us at (843) 996-1363 or fill out the form and we will connect you with our partnering disposal companies. Our partners have flexible options to meet your medical waste disposal needs.