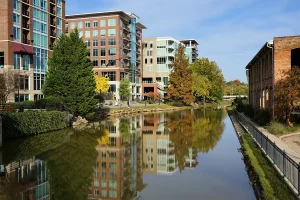 Medical Waste Pros has a nationwide network of pre-screened medical waste disposal companies that provide secure and compliant waste services. We can help you figure out the right kind of containers you will need and set up a pickup schedule for any kind of medical waste.
Our services are OSHA compliant and follow the waste disposal regulations for your area. We offer pick-up, drop-off, and on-call services for emergencies. No matter what kind of system you need, we have solutions for you.
Medical Waste Management in Greenville, SC
Medical Waste Pros partners with providers throughout Greenville. We service the greater Greenville area, as well as the surrounding cities. When you call us at (843) 996-1363 or fill out the form, we will send you free quotes on services personalized to your needs.
We offer a variety of services to meet the needs of large hospitals, healthcare-related businesses, and homes providing medical care. Click on any of the links below to learn more about services available in Greenville:
Get Free Quotes from Medical Waste Pros Greenville
Medical waste covers a wide range of materials from personal protective equipment to blood. Medical Waste Pros Greenville has services to safely dispose of each kind. Give us a call at (843) 996-1363 or fill out the form and we will connect you with providers to complete your disposal needs. You will be able to compare prices and companies to find the right fit for you.