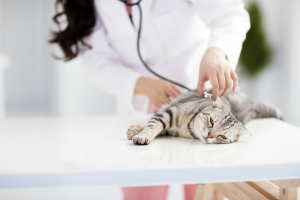 In addition to EPA, DOT and RCRA regulations surrounding medical waste disposal, veterinary waste disposal policies take into account the unique circumstances of veterinary practices.
Veterinary waste disposal policies are for the most part governed by the American Veterinary Medical Association (AVMA), which was established in 1863 as a not-for-profit association that today represents more than 88,000 veterinarians.
The AVMA breaks its veterinary waste disposal policies into six different categories—animal waste, carcasses, environmental, medical waste, pharmaceuticals, and veterinary practice or workplace.
You can read a more in-depth overview of the AVMA policies on the AVMA website.
Animal Waste
The AVMA supports appropriate efforts and actions to prevent negative environmental impacts from wastes generated by terrestrial or aquatic animal productions.
Carcasses
The AVMA advocates safe and environmentally responsible disposal of animal carcasses, whether on an individual animal basis or during mass mortality events. In addition, the AVMA recognizes that animals who die from injuries generally do not represent a health hazard for humans and follows compliances for the Pan American Health Organization (PAHO) on this matter.
Environmental
The AVMA supports conservation of natural resources by encouraging practices including, but not limited to, minimizing waste, reducing energy consumption, maximizing electronic communication, recycling, and utilizing recycled products by its offices, employees, councils, committees, members, and others.
Medical Waste
The AVMA encourages responsible entities to use reasonable approaches and sound science in the formulation of regulations pertaining to the impacts of veterinary medical waste on the environment, veterinary profession, and the health and welfare of patients.
Pharmaceuticals
The AVMA recognizes pharmaceutical disposal as an important and complex issue and urges its members to follow all federal, state, and local regulations.
Veterinary Practice or Workplace
It is incumbent on the veterinarian who is an employer to inform all employees or volunteers regarding the job hazards that may affect the health of employees or volunteers in the veterinary practice in which they are employed. Those hazards are listed as physical, chemical, and biological.
Let Medical Waste Pros Help Today
At Medical Waste Pros, we can help you stay in compliance to all AVMA policies by partnering you with a professional waste disposal company in your area. We can help you sign up for the best veterinary waste disposal program for you. Start by filling out the form to the right, or by calling us at (888) 755-6370.