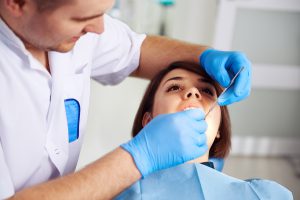 As a dentist, you have a lot to worry about—your patients' teeth and gum health being top priority. Managing your dental office medical waste disposal program as a result becomes a time consuming worry as you must remain in compliance with all state and federal regulations.
You can improve your dental office medical waste disposal program by understanding the types of wastes dental offices produce and setting up the right disposal program to consolidate these wastes in your office.
You can read more about dental office medical waste disposal programs on the Health First website!
Common Types of Dental Office Medical Waste
Although there are several types of dental office medical waste, you can often save time by combining certain wastes into the same disposal containers.
Classifying dental office medical waste into sharps, biological waste, and hazardous materials will help you better understand which wastes can be combined together.
Sharps –

Dental office sharps can include teeth, dental wire, needles, glass ampules, scalpels and sutures.
Biological Waste

– Gloves, aprons, masks, disposable bibs, swabs and human tissue
Miscellaneous Types of Dental Office Medical Waste
Outside of the usual sharps, biological waste, and hazardous material produced by a dental office, a few other items typically exist in a dental practice that need to be disposed of properly.
Dental Mercury

– Even dentists who do not place amalgam fillings generate mercury waste from drilling into teeth with amalgam fillings in them. Best practices are to install an amalgam separator in the office or have them sent to a certified amalgam capsules disposal company.

Digital X-Rays

– Several dental offices still use lead aprons to protect their patients from X-rays. These aprons need proper disposal by a lead recycling company after they have reached their end use. Additionally, if you are still using an X-ray machine, you will need to properly dispose of the silver nitrate produced through a silver recovery unit.

Expired or Unused Medications

– To be in compliance with all EPA, FDA and DEA pharmaceutical waste regulations, make sure to

properly dispose of any expired or unused medications

through a proper pharmaceutical waste disposal program.
Improve Your Dental Waste Disposal Today
Here at Medical Waste Pros, we can help you partner with the best regulated medical waste disposal company in your area for your dental office. The companies we partner with specialize in serving healthcare facilities—including dental practices—across the nation, but we make sure they can fulfill your needs. To start, fill out the form to the right, or give us a call at (888) 755-6370 for free quotes on services near you!