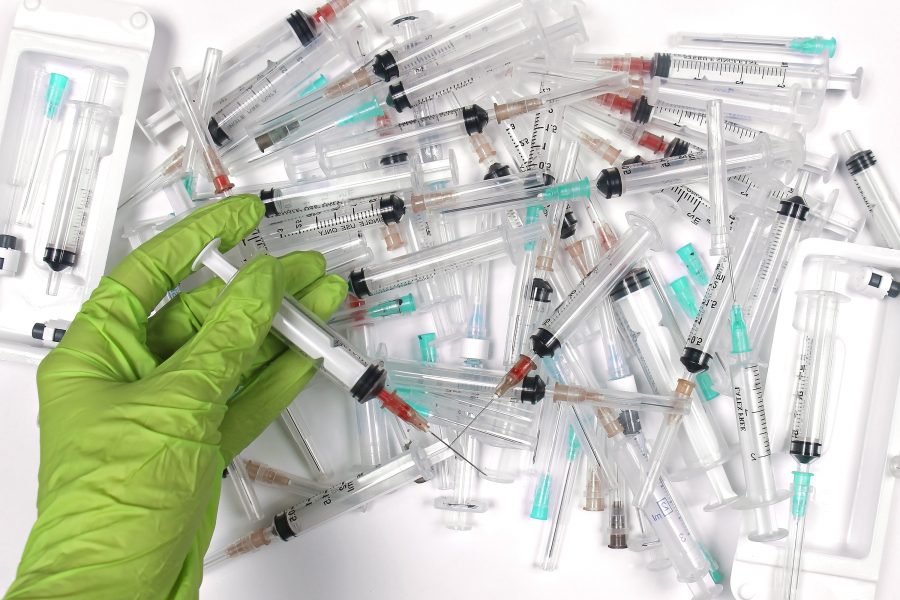 What is Sharps Waste?
Sharps are defined as items that can prick, slice, or penetrate the skin or can puncture waste bags and cardboard boxes, including:
Needles
Pasteur pipettes
Syringes
Scalpels and other blades
Lancets
Autoinjectors
Infusion sets
Capillary tubes
Connection sets
Broken glass and plastic from laboratory settings including slides, slide covers, and more
After use, these sharps become biohazardous waste, in turn becoming sharps waste. Biohazardous waste must be handled carefully and disposed of properly as this waste has the potential to spread infectious agents such as: Hepatitis B (HBV), Hepatitis C (HCV), and Human Immunodeficiency Virus (HIV).
Sharps Containers
There are specific containers for sharps disposal. These containers are reinforced and necessary for proper disposal of medical waste. Sharps containers are made from plastic and have an indicator of when the box is full— typically marked with a line.
There are two main types of sharps containers: single-use and reusable sharps containers. Single-use sharps containers are disposed of along with the waste. These containers are usually used for mail-back programs and ongoing services, depending on how often you need disposal services. Reusable sharps containers are emptied, sterilized, and then returned for reuse.
It is important to verify that you are using an FDA approved sharps container for proper disposal of sharps waste. These containers have been cleared for use by healthcare professionals as well as the public.
Proper sharps disposal containers are designed to safely store used sharps—pharmacies, medical supply companies, health care providers, and online sources, have proper sharps disposal containers available.
Sharps Disposal
The sharps disposal process is regulated by OSHA, as well as state and local government. To dispose of contaminated sharps it is necessary to use a trusted service provider.
There are many ways to stay compliant with regulations explained by the FDA including mail-back services, collection sites, and pick-up services. Most commonly the service provider utilizes a process known as autoclaving to sterilize the sharps and decontaminate them.
Get Free Quotes on Sharps Services Near You
Many industries produce sharps waste, learn more about Medical Waste Pros, sharps disposal services, and a few of the industries we serve today!
For free quotes on medical waste disposal or compliance training services, simply fill out the form to your right or just give us a call at 888-755-6370 today.