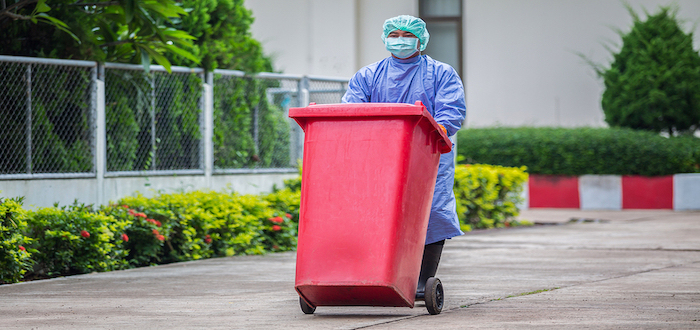 How Much Medical Waste is Produced?
According to the EPA medical waste is generally healthcare waste that is potentially contaminated by blood, body fluids, or other infectious materials. There are six kinds of regulated medical waste:
Pathological Waste,
Human Blood and Blood Products,
Cultures and Stocks of Infectious Agents,
Contaminated Sharps,
Isolation Waste, and
Contaminated Animal Carcassses, Body Parts, and Bedding.
The amount of waste produced is a result of regulatory compliance. On average, a single hospital bed produces 33 pounds of waste per day. Based on that figure, more than 5.9 million tons of waste are generated in the U.S. each year. With this amount of waste, proper and safe disposal is necessary for legal, health, and environmental reasons.
Medical Waste Disposal
There are regulatory fines and medical dangers with improper disposal, it is important to ensure proper disposal of your waste to stay compliant with OSHA and state regulations. There are different methods of medical waste disposal, such as scheduled disposal, mail-back kits, and on-call management.
For proper disposal, it is necessary to properly separate and store the waste. Waste is to be separated by the waste type. The four waste types are; infectious, hazardous, radioactive, and general waste. Furthermore, the separated waste is to be stored in specific containers. It is important to ensure all steps are taken for compliant disposal. Improper disposal can violate legislation, in addition to having health and environmental effects.
Get Free Quotes on Medical Waste Services Near You
Medical Waste Pros can provide regulatory compliant medical waste services to every industry, however, our primary industries served include hospitals, clinics, labs, and blood banks.
To get started, fill out the form to the right, or give us a call at (888) 755-6370. Within minutes, we'll get you free, no-obligation quotes within minutes!