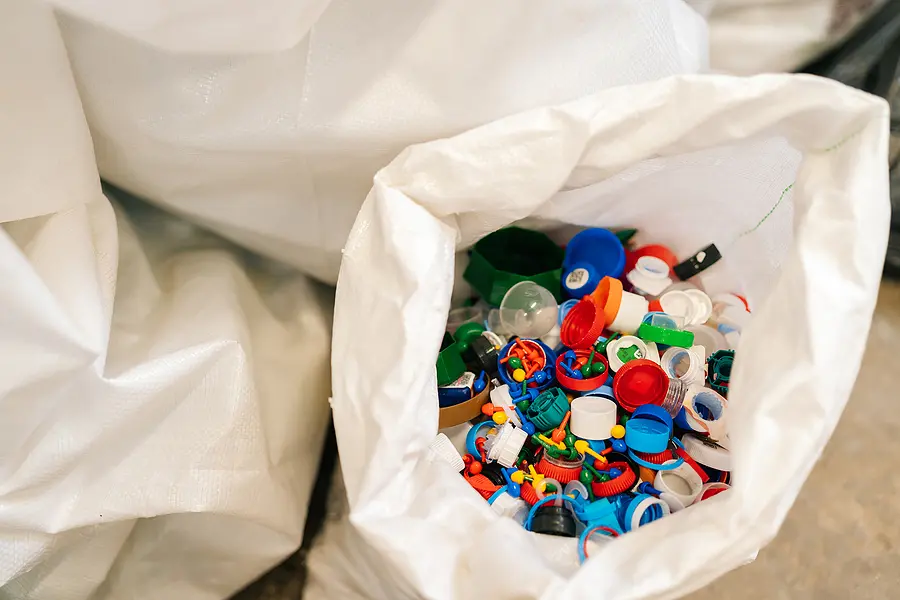 A global pandemic, an aging population, and growing healthcare markets have increased medical waste production worldwide. The environmental impact is a great concern, creating an immediate need for better approaches to medical waste treatment, but improving medical waste recycling is easy with the right resources and training.
Healthcare workers should be able to easily identify recycling opportunities while maintaining patient safety. Recycling and reusing conserves resources, lowers the risk of accidental contamination, and reduces costs associated with new material purchases.
What Types of Medical Waste is Recyclable?
Medical waste is divided into two main categories, hazardous and non-hazardous. Approximately 85% of medical waste is non-hazardous and no different than common household trash. A staggering amount of this medical waste includes single-use plastics that need recycling. Other materials like metal and glass can also be recycled.
Medical Plastics
Plastic is highly versatile and has many medical applications due to its durability and low cost. Medical plastic has many roles including packaging, single-use instruments, prosthetics, implants, and more. A plastic-free healthcare system is implausible, making recycling a key component to a sustainable future.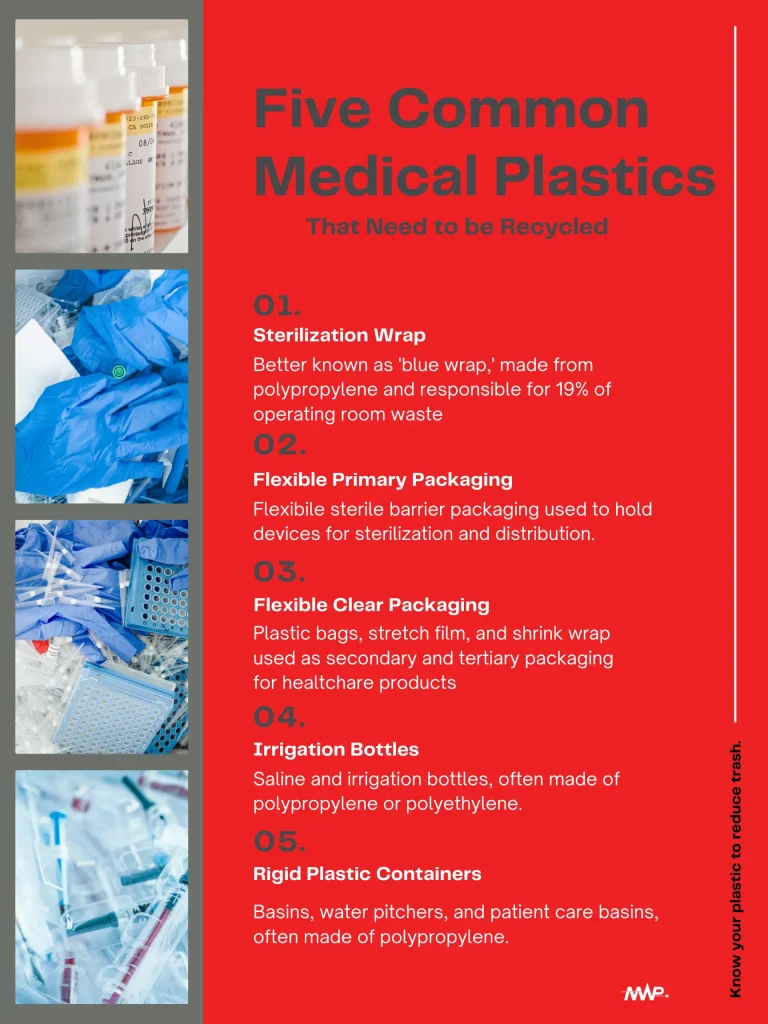 Common medical plastic waste includes:
Sterilization wrap – Better known as "blue wrap," sterilization wrap is made from polypropylene and can be recycled with #5 plastic materials. Blue wrap accounts for nearly 19% of all operating room waste.
Flexible primary packaging – Flexible sterile barrier packaging used to hold devices for sterilization and distribution. They typically include two different kinds of materials or multi-material film laminations. Check the resin identification code for more information on recycling.
Flexible clear packaging – Plastic bags, stretch film, and shrink wrap are used as secondary and tertiary packaging for healthcare products. It is made from polyethylene and can be recycled with #2 materials.
Irrigation bottles – Saline and irrigation bottles can be drained and collected for recycling. They are often made of polypropylene or polyethylene and can be recycled with #5 or #2 materials.
Rigid plastic containers – Basins, water pitchers, and patient care basins are typically made from polypropylene and can be recycled with #5 materials.
Metals and Other Materials
Medical facilities are one of the leading sources of metal scrap. Platinum, gold, silver, nickel, and steel can be recovered from a number of devices, equipment, and machines. Other materials such as glass, paper, and cardboard are also common waste items.
Common medical waste materials that need recycling:
Simple disposable surgical instruments – Simple instruments made of chrome steel including forceps, scissors, clamps, and needle holders can be recycled. Steel is 100 percent recyclable and can be used again and again.
Complex disposable instruments – Complex instruments are designed with reusable and disposable components to make recycling possible without reducing safety. Parts that have been in direct contact with the patient can be separated and treated appropriately.
Surgical trays and instrument carriers – Containers required for surgical operations are made of combinations of stainless steel, aluminum or titanium alloys, and various plastics. Trays can be recycled when worn out or no longer in use.
Implants and explants – Explants and similar medical devices consist of metal alloys as well as ceramics and plastic polymers. Materials can be recovered with mechanical or thermal force or metallurgical smelting.
Electrical medical equipment – Obsolete medical equipment like MRI scanners, CT scanners, computers, and X-ray machines can be resold, donated, or recycled by an electronics recycling specialist.
Paper waste – Office paper, cardboard, and newspaper are simple and cost-effective to recycle.
Recycling can be increased simply by separating plastic and non-plastic medical waste into separate containers. Training employees and having clear disposal protocols improve recycling rates and lower waste disposal costs overall. Manufacturers are also looking at solutions to reduce medical waste with more recyclable materials and 3D printing technology.
Reduce the Impact of Medical Waste with Medical Waste Pros
Medical Waste Pros is your solution for responsible medical waste disposal. From recycling to hazardous waste disposal, we can direct you to the best possible services at a reasonable price. Contact us by calling (855) 755-6370 or fill out the form to connect with medical waste disposal companies in your area. Within minutes, you will receive free, no-obligation quotes from reputable companies near you.