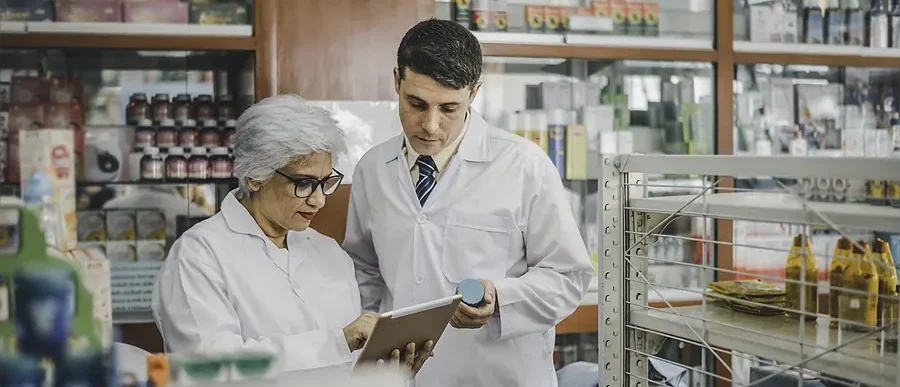 Controlled substances are drugs that require strict regulation based on their potential for abuse or dependence. Having procedures in place for the disposal of a controlled substance minimizes the risks associated with drug addiction and negative environmental impact.
Healthcare organizations and individuals who handle a controlled substance for work or personal use need to be familiar with the specific procedures regarding handling and disposal. Safe handling prevents the misuse of painkillers, reducing the growing opioid crisis in America. Awareness of environmental dangers helps reduce contaminated ecosystems and waterways.
What is a Controlled Substance?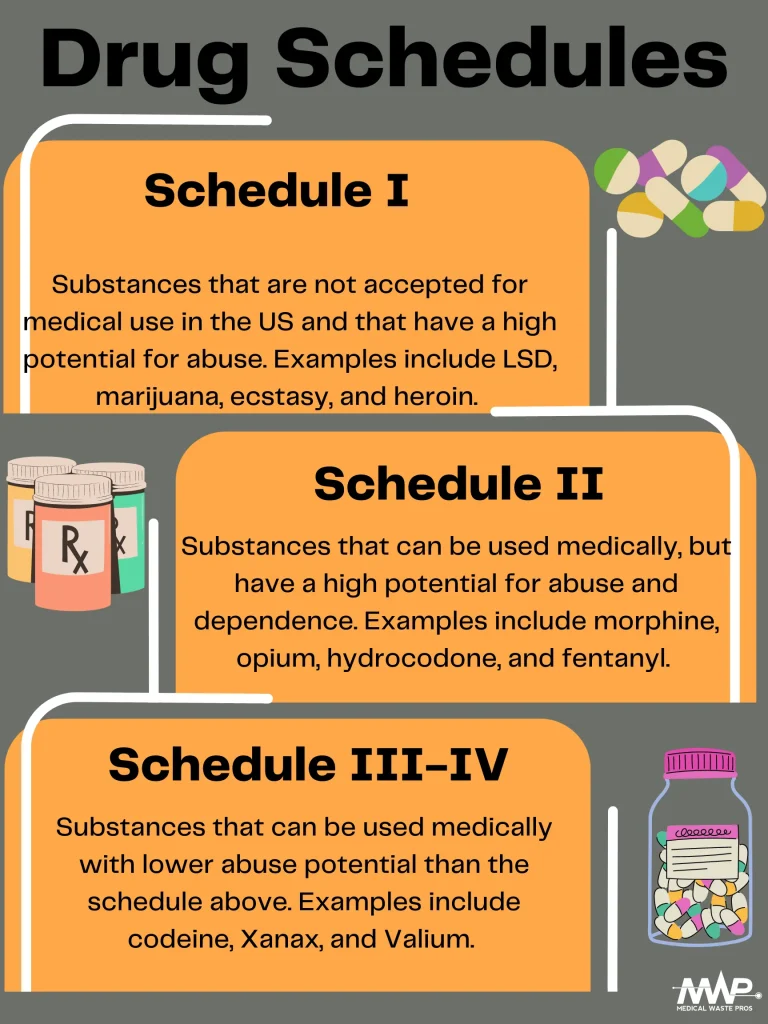 Controlled substances break down into five categories, designated by The Controlled Substances Act (CSA). These designations, called "schedules," depend on their medical use, potential for abuse, and safety liability. 
While many uses exist for these drugs, in the current medical environment, pain management remains the most common reason for prescription of these drugs. Unfortunately, inappropriate use of these drugs is common. It is estimated that 16.3 million Americans abuse prescriptions every year, 9.3 million of those being opioid abusers.
Who Regulates the Disposal of Controlled Substances?
Regulation for controlled substances comes from an array of agencies at the federal, state, and local levels. Here is a list of regulations healthcare providers and individuals handling controlled substances should be aware of:
| | | |
| --- | --- | --- |
| Governing Agency | Role in Regulating Controlled Substances | Controlled Substance Disposal Rules |
| The DEA | Manages the CSA including adding, deleting, or changing the schedule of certain drugs.Oversees individuals and entities involved in prescribing, dispensing, and distributing controlled substances. | Substances must be rendered "non-retrievable" to the point that they are unusable. |
| The FDA | Established the Drug Supply Chain Security Act which includes product tracing requirements and national licensure standards for distributors. | Requires recordkeeping to improve the traceability of controlled substances. |
| The EPA | Developed the Resource Conservation and Recovery Act (RCRA) to minimize environmental impact, promote drug take-back programs, and set guidelines for healthcare facilities. | Prohibits healthcare facilities and reverse distributors from disposing of controlled substances by flushing them down the drain or "sewering." |
| The Occupational Safety and Health Administration (OSHA) | Sets safety standards to limit occupational exposure to controlled substances. | Requires employees to be trained on the safe handling and disposal of controlled substances. |
| The Department of Transportation (DOT) | Allows for easy identification and tamper-proof transport of waste products. | Requires specific labeling and packaging for controlled substances in transport for disposal. |
Be sure to look into your local regulations to comply with environmental and drug safety laws in your area.
Disposal Procedures for Organizations
Healthcare organizations must follow disposal procedures of controlled substances by rendering them non-retrievable. Non-retrievable means that the drugs must be physically or chemically altered in a way that is irreversible.
Industry best practice procedures look like this:
Place expired, unwanted, or extra medications into specially-designed receptacles that deactivate or neutralize the drugs on contact.
Place neutralized containers into a non-hazardous pharmaceutical waste container.
Partner with a licensed waste management vendor or "reverse distributor" to remove and incinerate your controlled substances.
Disposal Procedures for Individuals
Patients with leftover medications have a few options for the safe disposal of controlled substances. Some healthcare organizations will provide drug mail-back envelopes to turn in unused medication directly for incineration. Other options include drug take-back locations available in police departments, pharmacies, and other public areas.
You should only sewer drugs listed on the FDA's Flush List when drug take-back options are not readily available. If none of those options are available to you, we offer a residential medical waste mailback program. Our partners are trusted and in compliance with the laws of the locale they operate in, and can help you protect the environment and keep controlled substances out of the wrong hands.
Safely Dispose of Medications with Medical Waste Pros
Medical Waste Pros partners with licensed medical waste management companies across the country. We can help you build a secure disposal system to maintain compliance and protect your community. Give us a call at (855) 755-6370 or fill out the form to receive free quotes on our services in just minutes.