Sharps Disposal Services in Albany
Upon completion of medical procedures, the transformation of medical sharps into hazardous waste presents notable dangers. Improper handling of contaminated medical sharps can result in the transmission of infectious agents such as Human Immunodeficiency Virus (HIV) or Hepatitis B (HBV). It is of paramount importance to exercise the utmost caution when managing medical sharps and ensuring their appropriate disposal to avert accidents and safeguard the health and environment of individuals. This critical requirement applies to a wide range of settings, including commercial establishments and residential areas, underscoring the significance of secure handling and adherence to correct disposal protocols. Find secure, reliable sharps disposal services in Albany today with Medical Waste Pros!
What Classifies as a Medical Sharp?
Sharps are incredibly common in medical settings. Here are a few examples of items that classify as medical sharps:
Razor Blades
Suture needles
Hypodermic needles
Culture dishes and slides
Trauma scene waste that can cut or pierce
Syringes with and without needles
Acupuncture needles
Scalpel blades
Broken glass from the laboratory including slides and slide covers.
Medical Waste Pros knows and understands the rules and regulations organizations must comply with in regards to laws in order to keep their patients and employees safe. We are here to help you with your disposal needs.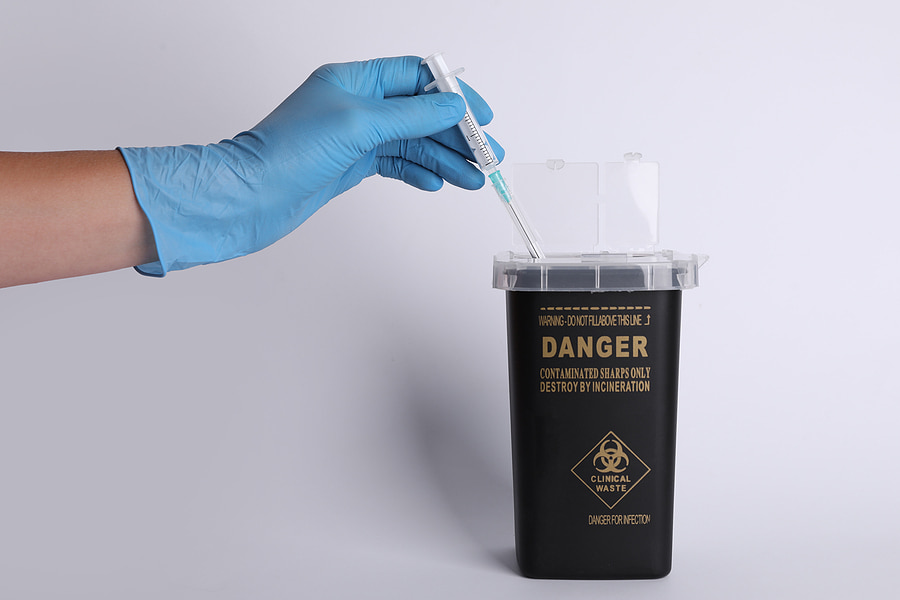 Select the Right Sharps Disposal Container in New York
The regulations pertaining to the management of medical waste often exhibit variations at the state and local levels, highlighting the importance of consulting local authorities to obtain accurate information regarding the utilization of approved sharps containers. Ensuring the highest level of safety requires sharps containers to be constructed from puncture-resistant materials, typically rigid plastics. These containers should be equipped with a prominently marked fill line, indicating their safe capacity, and must possess secure sealing mechanisms.
Obtaining approved sharps containers is a convenient process, as they are readily available through online retailers and select pharmacies. By diligently adhering to established guidelines and using these containers appropriately, you significantly mitigate the risk of accidents within your facility, thereby ensuring the well-being of patients, employees, and the general public. Your steadfast commitment to observing proper disposal practices plays a pivotal role in fostering a safer environment for all individuals involved.
How Our Sharps Disposal Services Work in Albany
Our team of medical waste experts in Albany provides a wide range of services at affordable rates. They collaborate with you to determine the most suitable system for your specific requirements and ensure that you are utilizing secure and compliant containers for all your waste. Here's a breakdown of how our process works:
You fill out the form or call us at (844) 648-4908. We will take down information regarding the services you require.
Our contractors in Albany will write up quotes based on the services you are interested in.
You receive several quoted options and select the one that is a best fit for your company.
Medical Waste Pros Is Here for Your Sharps Disposal Needs
Medical Waste Pros Albany partners with the most qualified sharps disposal companies in New York. Whether you need waste picked up daily, monthly, or annually, or if you just need help choosing the right container, our partners can help.
We work with organizations in any industry that produces medical waste, including but not limited to:
Call us today at (844) 648-4908 or fill out the form. We will get you customized quotes on services near you
Medical Waste Pros Albany Location
"
Medical Waste Pros Albany
300 Morton Ave
Albany NY 12209
(844) 648-4908
Our normal business hours are Monday through Friday from 8:00 AM to 7:00 PM and Saturday from 9:00 AM to 4:00 PM.