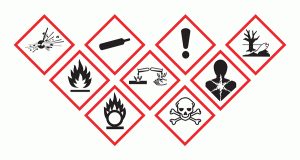 Employees in industries from healthcare to construction may encounter hazardous chemicals or other materials while on the job. To keep them safe, the Occupational Safety and Health Administration (OSHA) developed the Hazard Communication Standard so that employees could quickly and easily identify the chemicals to which they are exposed.
What is Hazard Communication Training?
Hazard communication or "HazCom" training is required for any employer with at least one employee and one hazardous chemical. Proper training is an important step in ensuring employee safety.
Along with bloodborne pathogens training, hazard communication training can help minimize the risks of exposure as well as maintain compliance with OSHA guidelines.
Recently, OSHA updated its HazCom guidelines to align with the United Nations' own Globally Harmonized System of Classification and Labeling of Chemicals (GHS). A key feature of this system of hazard identification is its use of standardized warning pictograms for various hazards.
Maintaining Hazard Communication Compliance
To maintain HazCom compliance, employee training is generally a part of a larger program designed to promote the safe handling of hazardous chemicals. These programs usually cover, in addition to HazCom training, information on container labeling and collection as well as the availability of Safety Data Sheets (SDS). 
The training itself must cover several key components: 
Hazardous chemicals in the workplace

Recognizing exposure to hazardous chemicals

Container label elements

Access, use, and understanding of SDS

Updating SDS

Information concerning the written hazard communication program in place
Hazard Communications Training Services
Proper HazCom training becomes more important the more employees there are. But more employees also means it can be more difficult to provide and monitor training for all of your employees.
Using a HazCom training service can save time and ensure compliance with online or in-person certification programs.
Get Free Quotes On Hazcom Training Services
Medical Waste Pros partners with a nationwide network of training services that can help you simplify HazCom training for your employees. For free quotes on HazCom training in your area, fill out the form to the right or give us a call at (888) 755-6370.