Maintaining good medical waste management and disposal practices isn't just better for your company—in many cases, it's also the law.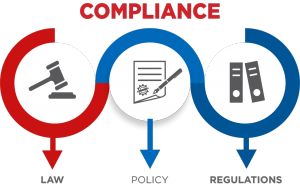 Of course, knowing how to stay on top of medical waste compliance and any required OSHA compliance training can be a challenge because of the number of rules that must be followed.
Whether you're a small practice or a large organization, below you'll find solutions to all of those problems. If you need training, consider hiring an outside source to handle the program and certification.
No matter your project, Medical Waste Pros can help you find the right solution through our nationwide network of training and disposal partners.
Compliance Training Options
Why Use a Compliance Service?
Maintaining compliance can be a lot to handle and can have serious consequences if not all requirements are met, so why not entrust it to a service that can exclusively dedicate the necessary attention to making sure your employees—and your business—are safe and risk-free?
Get Free Quotes on the Right Compliance Service for You
If you're overwhelmed by the number of options, Medical Waste Pros got you covered. For free quotes on compliance training services, fill out the form to your right or give us a call at (888) 755-6370 and we can connect you with our nationwide network of training and disposal service providers within minutes.