Proper Medical Waste Disposal
Improper medical waste disposal can have a severe impact on your community members and your local environment. Because of the many types of medical waste, it can be difficult to determine exactly how your waste needs to be thrown away.
Below are a few best-practices that will help you make sure your company is handling medical waste properly, and keeping your patients, employees, and practice safe:
Keep Aerosols, Alcohol, and any Other Chemicals Separate from Medical Waste – Some chemicals and certain types of hazardous waste are identified as hazardous and require special disposal. Get in touch with a local expert before disposing of these materials to ensure you are working within the law.
Keep Pharmaceuticals Separate from Other Types of Medical Waste – You must use specially designed containers built specifically for pharmaceutical waste when disposing of it. There are also precise guidelines to follow that apply to pharmaceutical waste because it doesn't naturally degrade.
Don't Transport Your Own Medical Waste – The department of transportation has rules regarding who can and how to transport hazardous waste. Even if you're just moving across the street, employ a permitted hauler to move your medical waste.
Hold Regular Training on Managing Medical Waste – Yearly, documented training on blood borne pathogens is required by the Occupational Safety and Health Administration (OSHA) for all employees who may be at risk of exposure to disease-causing germs. Failing to provide training to employees increases the chances of accidents.
Don't Leave Medical Waste Containers Open – Medical waste should be stored in secure containers before disposal, especially if you let it accumulate before disposing of a large amount of waste. If the container doesn't securely close you risk spillage or contamination.
To protect the environment and the safety of anyone who might come into contact with medical waste there are federal and Illinois laws in effect to ensure the correct handling and disposal of infectious medical waste.
Medical Waste Pros Chicago can help you comply with these laws—our partners fully understand the laws in place and the repercussions of not following them, and offer safe alternatives to help you handle your medical waste.
Call our Chicago office at (312) 324-3299 to get connected to a local professional today.
How Can I Dispose of Medical Waste in Chicago?
If you have even a small amount of medical waste that needs to be disposed of, it's important to use the correct disposal technique for that type of waste. Flushing waste down the toilet is never a good idea, even if you just have one pill to throw out.
Small amounts of waste can be stored until your volume grows large enough to utilize a disposal service, and there are a variety of service types to meet the needs of any sized disposal job. Here are some of the most popular medical waste disposal services in Illinois:
Mailback/Shipping and Return Kits
A mailback system is designed for smaller quantities of medical waste, but it offers a convenient, legal way to dispose of all types of medical waste.
Your service provider will send you everything you need, from the waste container, to a pre-paid shipping label, to instructions. You just fill it up and ship it out when its full.
Any kind of medical waste can be mailed—sharps, amalgam, soft medical waste, mercury—as long as it's in the proper container, meaning businesses in all industries can make use of a mailback service.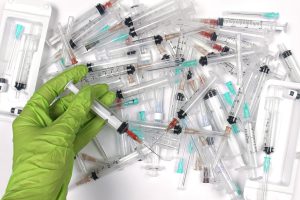 Regularly Scheduled Medical Waste Disposal
Large generators of medical waste need their waste bins to be emptied out frequently. A regularly scheduled pick up service can be set up with a service provider at any frequency—daily, weekly, monthly, quarterly, or even annually.
When your waste is picked up it is tracked and recorded so you have documentation of proper disposal of your medical waste.
On-Call Medical Waste Management Services
If you don't produce enough waste to schedule ongoing pick ups, on-call waste services allow you to call in when your waste bins are full and have a driver pick up your waste on short notice.
This is a convenient option if you generate waste at unsteady rates, or if you like to store as much waste as you can before having it picked up.
Regardless of the amount of medical waste you produce, there is a service in Chicago that will fulfill your needs. We can get you connected to several local providers so you can find the best option.
Get Free Quotes on Medical Waste Disposal Services in Chicago Today
Medical waste requires proper disposal—don't just throw it in your normal dumpster. Medical Waste Pros Chicago will help you find a reliable local medical waste company to help you properly manage your waste. From secure containers to flexible pick up and service options, you'll be sure to find a solution.
Call our Chicago locatoin today at (312) 324-3299 or fill out the form on the right for free quotes on medical waste disposal services near you.