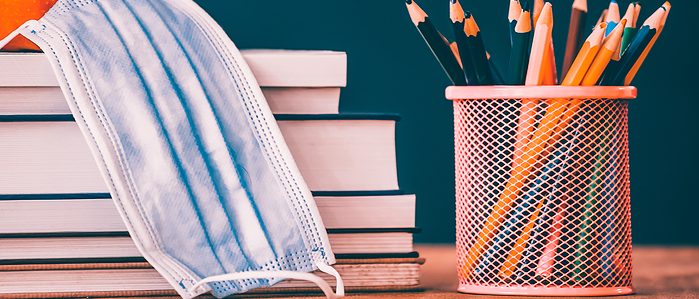 As a new school year approaches, schools should revisit their medical waste procedures. Schools serving students of all ages provide some degree of medical and safety services, generating medical waste. Whether you dispense medications, preform first-aid, or offer on-campus health services; you will need to safely handle and dispose of medical waste materials.
Medical waste should not be mixed with regular trash and must be disposed of according to federal, state, and local regulations. Medications and potentially infectious materials pose a risk for anyone who may come across them, especially children. Learn more about medical waste produced in schools and proper handling below.
Waste Materials Produced in Schools
School nurses' offices and on-site clinics will handle a variety of waste materials. Understanding waste classifications will help you properly handle and dispose of each category. It is important for all staff members to be trained in dealing with bloodborne pathogens and other potentially infectious materials (OPIMs) to keep your staff and students safe.
Infectious Waste
Infectious waste is a waste product that contains pathogens or bacteria that could spread disease or cause injury. This includes any materials contaminated with blood, bodily fluids, and sharps. Infectious waste should always be handled with the appropriate personal protective equipment (PPE) and in accordance with OSHA's Bloodborne Pathogens Standard.
Contaminated items in schools typically come from treating injuries such as skinned knees, insect bites or stings, and bloody noses. Staff should know how to handle these situations and safely collect materials in red biohazard waste bags and sturdy, sealable containers. Red bags are easily identified to avoid improper handling and exposure.
Sharps
Sharps include any medical item that can prick, cut, or penetrate the skin, causing injury and/or potentially spreading disease. Sharps are commonly used in schools to treat students with diabetes and allergies. They must be disposed of in an approved sharps container with a locking lid. Containers should never be overfilled and must be removed and emptied on a regular basis.
Pharmaceutical Waste
Pharmaceutical waste comes from left over or expired medications. Most schools administer medications to students and will need a system to remove waste. Prompt removal of pharmaceuticals helps avoid any risk of ingestion or exposure for your students.
College & University Medical Waste
Colleges and universities handle medical waste on a larger scale with on-campus health centers and medical learning programs.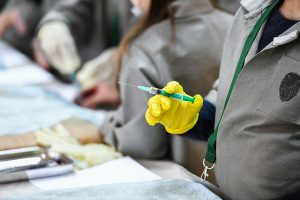 Medical Colleges
Medical colleges train students in nursing programs, medical degree programs, dental programs, and veterinary programs. Through the course of study medical waste is produced.
Lab cultures, stocks of infectious agents, animal parts, tissues, fluids, and sharps waste are generated in teaching laboratories. Depending on how each waste materials is classified, will determine how it should be handled and disposed of.
Campus Health Centers
On-campus EMS and health centers produce medical waste just like any other hospital or medical facility. They are subject to the same rules and regulations when disposing of medical waste. All medical waste should be segregated at the point of generation and placed in the proper container.
Find Medical Waste Disposal for Your School with Medical Waste Pros
Medical Waste Pros offers disposal services for all kinds of medical waste. We also offer compliance training to learn about safe handling, legal regulations, and safety. Contact us by calling (888) 755-6370 or fill out the form to learn about options near you.
We will send you free quotes on disposal options and training services in just minutes. Our experts will be a happy to review your current medical waste procedures and help you build a safe plan for the coming school year. Together, we will make sure that your school maintains compliance and that your campus is safe.