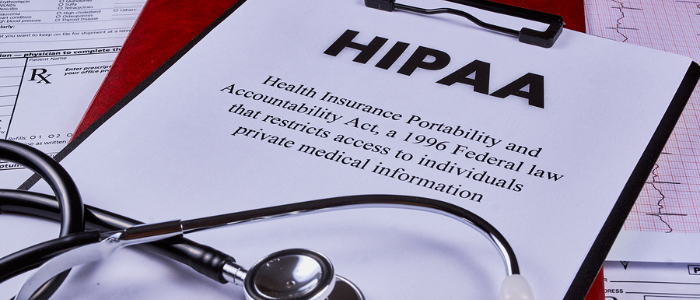 HIPAA's main purpose is to protect the privacy of protected health information (PHI), and although traditional medical records are typically what comes to mind, there can also be PHI in types of medical waste like:
Blood collection vessels

Medications

Specimen cups

Sharps

Empty IV bags & tubing
To learn more about what kinds of medical waste are covered by HIPAA, watch the video or read the transcript below.
Video Transcript
What Is HIPAA?
Enacted in 1996, HIPAA requires covered entities to implement any and all safeguards needed to protect the privacy of PHI in any form in order to limit incidental and prohibited uses or disclosures of PHI—including during disposal.
HIPAA Noncompliance Penalties
Whether accidental or intentional, HIPAA violations will always come with financial penalties—in some cases as high as 7 digits. When it comes to intentional or repeated violations, the fine may also come with handcuffs.
Violation Type
Minimum Penalty
Maximum Penalty

Unknowing

$100 per violation–

Max $25,000 annually

$50,000 per violation–

Max $1.5 million annually

Reasonable Cause

$1,000 per violation–

Max $100,000 annually

$50,000 per violation–

Max $1.5 million annually

Willful Neglect

$10,000 per violation–

Max $250,000 annually

$50,000 per violation–

Max $1.5 million annually

Willful Neglect–Uncorrected

$50,000 per violation–

Max $1,000,000 annually

$50,000 per violation–

Max $1.5 million annually
HIPAA-Compliant Medical Waste Disposal
While most PHI can be found in electronic or paper medical records, the U.S. produces 5.9 million tons of waste each year, making it just as important to safely dispose medical waste and potential PHI it contains.
All medical waste needs to be disposed, however there are multiple forms of medical waste that require specific disposal methods.
Safe Sharps Disposal
Sharps are used in a variety of places and for a variety of reasons, making them one of the most common medical waste types.
Sharps need to be separated out and disposed in separate containers at facilities like:
Physician's Offices

Hospitals

Pharmacies

Rehabilitation Facilities

Urgent Care Facilities

Residential Homes

Nursing Homes
Red Bag Disposal for Hazardous Waste
Red bags are designated for biohazardous waste that contains any potentially infectious substances like blood.
Common examples of biohazardous waste include:
Items with dried blood & fluids

Discarded surgical equipment

Bandages, gloves, & gowns

Blood-soaked materials

Discarded vaccines

Pathological waste

Cytotoxic waste
Black and Yellow Containers for Chemotherapeutic Waste
Yellow waste containers are used for chemotherapeutic waste that's considered "RCRA empty" according to EPA standards.
While black is used for bulk waste, yellow containers are designated for chemo waste that's "RCRA empty", meaning the materials are empty and have less than 3% of their original volume remaining:
Used ampules and vials

Used IV bags & tubing

Used syringes and needles

Used medications

Pathological chemo waste

P-listed substances & containers
Blue Containers for Hazardous Pharmaceutical Waste
Blue medical waste containers are designated for RCRA-defined types of hazardous pharmaceutical waste.
The RCRA uses its P and U lists to outline and different types of hazardous waste, including:
Warfarin

Nicotine

Lindane

Cyclophosphamide

Expired/unused pills & injectables

Bulk powders
In Need of HIPAA-Compliant Medical Waste Disposal?
Medical Waste Pros has helped numerous healthcare organizations with their secure and compliant medical waste disposal needs. To join them and let us help you with your medical waste disposal, fill out our form or give us a call at (888) 755-6370 for a free, no-obligation quote from providers in your area.