Biohazard cleanup involves removing and remediating harmful materials. It often includes cleaning and sanitizing areas where an accident, injury, or death occurred. The cleanup process deals with blood, human or animal remains, chemicals, mold, and more. Cleanup should be scheduled immediately and should always be handled by biohazard remediation specialists.
Cleaning up biological contamination requires complex planning and regulated procedures. Blood and infectious diseases present a risk to human health and require proper handling. Biohazard cleaning should follow OSHA, EPA, and CDC guidelines. The disposal of biohazards after a clean-up must also follow proper procedures, and should follow local and federal regulations.
What are Biohazards?
Biohazard materials come from biological substances including microorganisms, plants, animals, and their byproducts. They have the potential to spread disease and pose a threat to human or animal health. Potential biohazards abound in the medical field and those handling them must act with caution.
Here are some examples of biohazards:
Human bodily fluids: Blood, blood products, amniotic fluid, or other bodily fluid that can transmit disease.
Animal waste: Droppings that may contain viruses and bacteria, carcasses that may contain disease-carrying flies or rodents, and bedding materials from infected animals.
Medical waste: Tissue samples, lab cultures, microbiological waste including viruses and bacteria, byproducts from autopsies and surgeries, sharps, and IV tubing.
Pathological waste: Waste biopsy materials, anatomical parts, and unfixed human tissue.
Mold and fungi: Spores can become airborne and cause respiratory, neurological, and other illnesses.
Biohazards are grouped into 4 categories based on their level of risk. The risks used to determine each level include infectivity, the severity of disease, transmissibility, and the nature of the work conducted. The origin of the microbe, the agent in question, and the route of exposure make up the factors that determine the level of biohazard.
These are the 4 levels according to the CDC: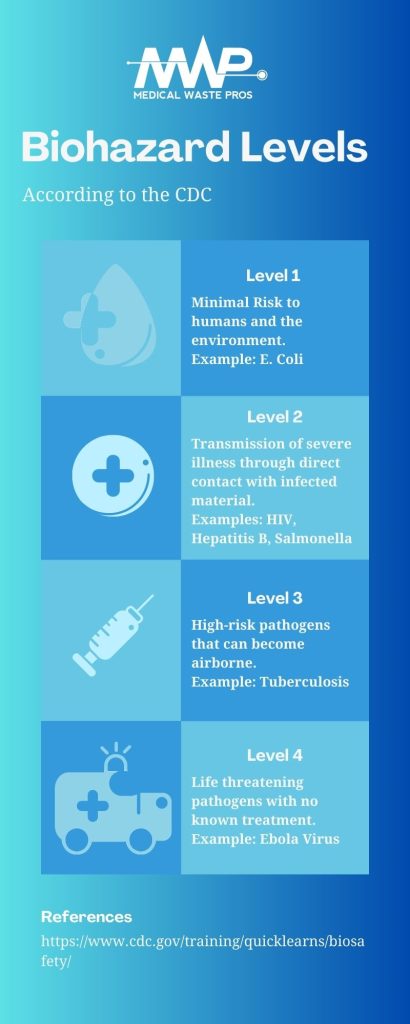 Common Biohazard Situations
Biohazard cleanup varies greatly based on the situation. Cleaning begins at the cause of the hazard and includes searching and cleaning the entire property when necessary.
Situations, such as a mold infestation, require extremely careful cleanup to ensure the elimination of all harmful spores. Situations involving death, hoarding, and other traumas require professional equipment and cleaners. Home and business owners should not dispose of hazardous materials themselves. Legal penalties may apply if improper disposal occurs.
Common biohazard situations include:
Blood and bodily fluid residue
Animal waste or remains
Hoarding situations
Suicide or death
Crime scenes
Chemical hazards
Virus contamination or disease outbreaks
Sewage contamination
Mold or fungus infestation
The Biohazard Cleanup Process
Trained professionals know how to identify and treat biohazards using the appropriate personal protective equipment (PPE) and the OSHA Bloodborne Pathogens standard. Cleanup may require hazmat suits, gloves, respirators, face shields, and more. The amount of PPE required makes cleanup more physically demanding.
The cleanup process also requires meticulous attention to detail. Microbes are invisible to the naked eye and can be easily missed. Some environments may require a control room to enter and exit the scene without spreading contaminants. This is particularly important in cases with multi-pathogens or airborne pathogens. Every last trace of the biohazard must be located and cleaned to remediate the risk.
The Cleanup Process
The remediation team equips the appropriate PPE to maintain their safety.
The team sets up control room or clean space to manage safe entry and exit from the contaminated area.
The team identifies the affected areas and determines the scope of cleanup. They create a plan based on their findings.
Visible damage and potentially infectious materials are removed from the site. Areas under and around the contamination receive cleaning. Layers of flooring and walls may need to be stripped back and tested. Porous materials should be removed based on industry standards and state regulations. Non-hazardous materials are removed, decontaminated, or sanitized. Hazardous medical waste handling must follow OSHA regulations, and anything requiring disposal goes to a hazardous medical waste incinerator.
When cleanup is complete, hydroxyl generators or other UV light sources sanitize and deodorize the air. Walls and flooring sometimes needs sealing to cover any remaining stains.
Biohazard cleanup is unavoidably destructive. Drywall and floorboards typically require removal. Restoration specialists will do their best not to worsen the loss of property for home or business owners. Professional companies also work to handle biohazard cleanup with empathy and care, especially when dealing with traumatic situations.
Choose Medical Waste Pros for Biohazard Cleanup and Medical Waste Disposal
Medical Waste Pros partners with certified waste removal companies that will remediate biohazard environments in accordance with all applicable laws and standards. Our companies will handle your situation with discretion and care. Give us a call at (888) 755-6370 or fill out the form to connect with providers near you. We will send you free quotes in just minutes.