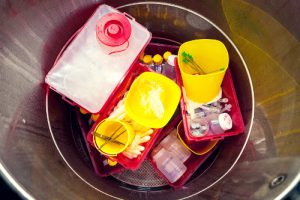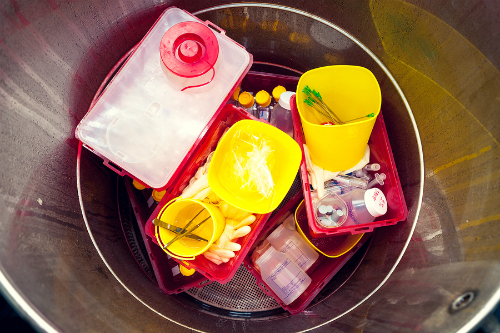 Medical waste is often hazardous and needs to be disposed of correctly. It is important for companies in every industry—from hospitals to funeral homes—to find the best medical waste disposal process to optimize their business' efficiency and be able to follow state regulations.
The medical waste disposal process ranges tremendously by industry, but by using this information we hope to help your company find which disposal process is right for you.
Check Out Any of the Articles Below to Learn More!
From office paper to human fluid, medical waste is found in almost every industry. Whether you are looking to change your current disposal process or looking to start a new one it is key to consider which services best fit your industry and which disposal system will be most efficient.
This in-depth white paper will help you understand the differences of medical waste in each industry and help you find which disposal process is right for you.
Supplementary Materials
If you want to find out more about how you can complete a successful residential shredding project, read more in the articles below!
Medical waste can be a tricky thing to manage. With so many different types and having to use separate containers for each one—it can easily become a mess. Learn some tips on how to keep your office organized so your medical waste disposal process is a breeze.
While establishing a solid medical waste disposal plan is an essential step to running a medical practice and ensuring you are compliant with stringent disposal regulations, taking the additional step to lay out a waste reduction plan as well can help you to save additional money—as well as time. Learn more about five of the top strategies for cutting down on the medical waste you produce today.
Get Free, No-obligation Quotes on Medical Waste Disposal Services Today!
At Medical Waste Pros, our nationwide network of reliable and affordable medical waste disposal providers can ensure you have all the resources and services you'll need for securely disposing of waste—including sharps disposal, regulated wastes, biohazard disposal, and more.
To learn more about any of our available services or to get started scheduling with a medical waste disposal provider near you, just give us a call at (888) 755-6370, or simply fill out a form to the right to request free medical waste quotes today!