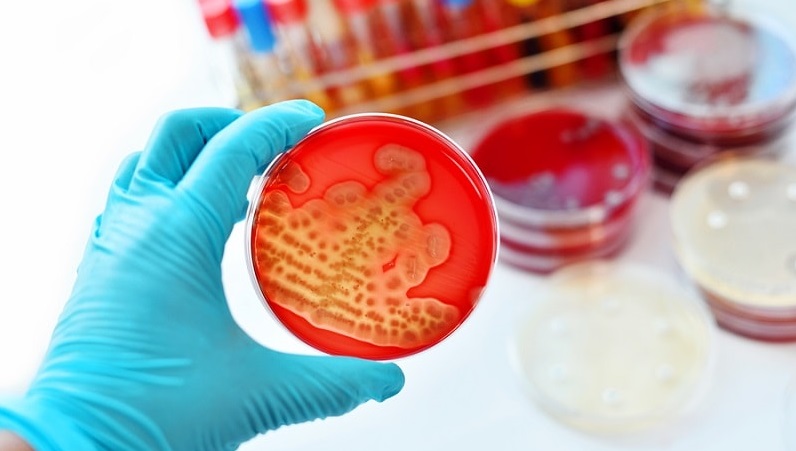 All workplaces deal with different on-site challenges and dangers. Even employees working common office jobs are encouraged to get up and walk or stretch every hour or so to avoid developing blood clots, nearsightedness, and general stress on the body. But some occupations present more risk of injury than others.
Depending on your industry, you or your employees may be at risk of exposure to certain infectious materials, possibly even fluids containing bloodborne pathogens. OPIM is an acronym for Other Potentially Infectious Material, and it's usually referred to in tandem with blood.
What Are OPIMs?
OPIMs include several body fluids besides blood that risk exposure to dangerous pathogens. They are generally categorized as:
Blood products (such as serum or plasma), human body fluids such as vaginal secretions, semen, cerebrospinal fluid, pleural fluid, synovial fluid, pericardial fluid, peritoneal fluid, amniotic fluid, any bodily fluid that is contaminated with blood, or any bodily fluid in a situation that makes the determination of the fluid difficult

Unfixed (living or dead) human organs or tissues

Organ cultures, cell or tissue cultures containing HIV, any culture medium containing either HIV or HBV, and the organs, blood, and tissues from animals with HIV or HBV

Pathogenic microorganisms
OPIMs do not include saliva (unless the exposure is during a dental procedure), tears, nasal secretions, sweat, urine, feces, or vomit.
On an average day, most people do not come in contact with these types of materials. But individuals who work in medical fields come across these materials quite often and should be aware of what qualifies as an OPIM.
Common OPIMs in the Medical Industry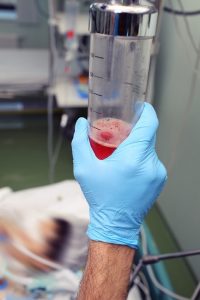 The medical industry is full of potential exposure to all kinds of OPIMs. If you work in this industry you are at risk of being exposed to bloodborne pathogens every day. Some of the potentially infectious materials to look out for in this industry include:
Pathology and anatomy wastes

Human blood, blood products, bulk body fluids, and materials contaminated by blood

Microbiological waste

Isolation wastes (wastes from highly communicable diseases)

Sharps

Animal waste
Common OPIMs Generators
There is a wide range of different OPIMs generators:
Dental offices
Doctor's offices & retail clinic medical waste
Funeral homes
Hospitals, healthcare & surgery centers
Laboratories & blood banks
Long-term care & hospice centers
Pharmacies & pharmaceutical companies
Veterinarian offices
OPIMs and the OSHA Bloodborne Pathogens Standard
In 1992, OSHA created the bloodborne pathogens standard to help protect workers from the potential health hazards caused by bloodborne pathogens. It outlines what employers are responsible for when it comes to keeping their employees safe.
The standard discusses different ways employers can minimize the risk of bloodborne pathogens and OPIMs, including plans and procedures businesses should have in place to prevent exposure and how to handle the situation if an employee is exposed.
For example, proper labeling can greatly decrease the risk of exposure by clearly labeling any container that has at any point held blood, OPIMs, or even contaminated laundry.
Another important stipulation that aims to reduce the risk of exposure to OPIMs deals with the proper disposal of contaminated waste products. Proper disposal of contaminated materials will ensure a safe workplace.
Proper Disposal of OPIMs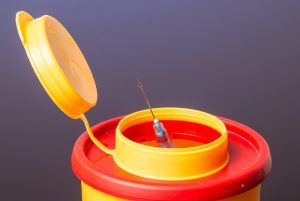 Exposure to bloodborne pathogens is possible at any time during the containment, storage, or transport of blood and OPIMs. To keep yourself and others safe—and to ensure compliance with the law—you must take great care during the entire handling process, including disposal.
It's important not to let contaminated materials pile up over time, and per federal laws, you absolutely must not throw contaminated materials in with common garbage.
Regulated Wastes: These are required to be put in containers that are closable and safely constructed to eliminate possible leaks. They must be labeled or properly color-coded according to the bloodborne pathogens standard.
Sharp Objects: Sharps need to be placed in proper containers that are puncture-resistant before disposal. This ensures they can be safely handled during transport once they are out of your hands.
Hazardous Medical Waste: The disposal of hazardous medical waste also involves special containers and treatment before it is considered safe.
In-depth guidelines for proper disposal techniques can be found in the bloodborne pathogens standard, but it's important to note that while the regulations created by OSHA are standardized, different states may have more safety and health rules in place. For more information on workplace health and safety regulations in your state, check out this handy tool created by OSHA.
Does Your Business Need a Better Way to Dispose of Blood or OPIMs? Medical Waste Pros Can Help
No matter what industry you are in, if you handle blood, OPIMs, pharmaceuticals, or any hazardous materials, Medical Waste Pros is here to help you dispose of it properly. We can connect you to the best local waste removal provider in your area. Our partners have the tools and know-how to make the disposal of your contaminated materials a breeze.
To get started, fill out the form on the right, or give us a call at (888) 755-6370. We will send you free, no-obligation quotes within minutes.