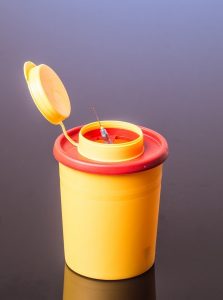 When you have small amounts of needles, syringes, lancets, and other sharps you need to dispose of, sharps mail-back services provide an easy and cost-efficient alternative to pick up services that are geared more toward large-scale medical waste disposal.
Rather than a truck coming to your location, the materials to safely package and mail back your sharps are sent to you instead—with things ranging from approved disposal containers and protective bag liners to USPS-approved return boxes with prepaid postage.
Why Mail Back Your Sharps?
Mail back services offer a variety of benefits to help you with safely disposing of your sharps:
Time Efficiency
With sharps mail-back, the process is as simple as filling up your containers, packaging them, and sending them in for safe disposal—all without needing to schedule a pickup.
While it does require safe containers to transport the potentially hazardous waste, with sharps mail-back they're provided with the service, giving you all the supplies you need to send in your materials and helping to save you time while collecting sharps.
Cost Efficiency
Besides providing the various materials needed for mail-back services like approved disposal containers, protective bag liners, and USPS-approved return boxes, sharps mail-back also saves on indirect costs.
Compared to other services, sharps mail-back eliminates extra costs such as transportation fees for pick up or time costs if you took your sharps to a medical waste drop-off collection point.
Security
It might feel uncomfortable to simply package your medical waste and the PHI that goes with it and just send it away, but sharps mail-back takes extra steps to assure you of secure destruction.
After you send in your sharps you're given what's called a manifest confirmation of destruction, which provides details about the disposal process and can be used for proof of compliance with laws like HIPAA.
How It Works
Sharps mail back is a simple 4 step process:
Your destruction provider sends the packaging materials you'll need to store your potentially hazardous waste, including things like disposal containers, protective bag liners, barcode tracking, and a USPS-approved return box.
Over time collect your needles, syringes, and lancets in the bins.
Once the containers are full, mail back your sharps package to the destruction provider for proper disposal.
After receiving your materials, providers send you a formal manifest confirmation of destruction to show that your sharps were safely and securely destroyed both for your own self-assurance as well as if you ever need to provide proof of secure disposal.
Who Benefits Most From Mail Back Sharps Services?
There's a variety of different sharp waste produced by businesses, organizations, and individuals that are ideal for sharps mail back services, including:
Clinical testing laboratories

Doctor's offices

Diabetic patients

Dental offices

Home nurses

Law enforcement

Pharmaceutical businesses

Veterinary offices
Get Free Quotes on Sharps Mail Back Disposal Near You
Medical Waste Pros partners with some of the top medical waste disposal providers who can help you to safely, legally, and efficiently get rid of sharps and other medical waste. For free quotes from sharps mail-back services in your area, fill out the form to your right or give us a call at 888-755-6370.