Proper Medical Waste Disposal
Due to serious implications of mishandling medical waste, the process of managing and disposing medical waste in Sacramento can be a stressful task to handle. It can even be difficult at times to evaluate whether items are to be considered medical waste or just waste.
Follow these guidelines to help protect you and your organization in handling medical waste disposal properly:
Don't move medical waste to a different location – If your facility relocates anywhere in Portland (even across the street), don't take your medical waste with you. Schedule a pickup by a permitted medical waste hauler receives your waste for transport
Don't place alcohol, aerosols, or any other chemicals into medical waste – Certain chemicals and different types of medical waste are classified as hazardous. Make sure to obtain expert guidance on disposal of any chemicals you may have collected, no matter how small the volume from a waste disposal expert in Portland.
Don't discard pharmaceuticals in any other type of medical waste – Pharmaceuticals should be disposed in specific, designed containers. Since many pharmaceuticals don't degrade over time, there are specific regulations that dictate how these pharmaceuticals should be disposed of properly.
Don't leave any medical waste container open or a full waste container unsealed – Full waste containers can topple and spill their potentially infectious content. Be sure that all medical waste is not only disposed of, but also completely sealed to prevent exposure.
Don't ignore required training for handling medical waste – The Occupational Safety and Health Administration (OSHA) requires documented training on blood borne pathogens for anyone who may be at risk of exposure to disease-causing germs present in medical waste every year. Lack in training causes unnecessary exposure that could put your entire facility at risk.
Government regulations on the federal, state, and local level are in place to protect those who may be exposed to medical waste and the surrounding environment.
Medical Waste Pros Sacramento can help you to remain compliant with all relevant laws and mandates in your area.
Find a disposal expert in Sacramento by giving us a call at (916) 277-9025.
How Can I Dispose of Medical Waste in Sacramento?
One thing to always remember about disposing of medical waste is to ensure that you and your organization is not flushing any medical waste down the toilet. Flushed medical waste tremendously increases the risk for sanitation and sewage treatment workers, janitors, and your family. Here are three ways to safely managing your medical waste in Sacramento:
Regularly scheduled medical waste disposal services work with business producing high quantities of medical waste on a regular basis. They are able to handle any frequency of pickups including monthly, weekly, daily, or quarterly.
Pick up services are always secure and tracked with an optional certificate of destruction for your records.
For an easy and convenient, yet cost effective option for facilities who don't require regular pickups, the mailback program is the perfect fit to dispose of your medical waste. The mailback system includes all the components needed to store, package, and mail your medical waste to be disposed of properly.
Mailback disposal programs are designed for smaller quantities of medical waste including sharps, soft medical waste, amalgam, and mercury.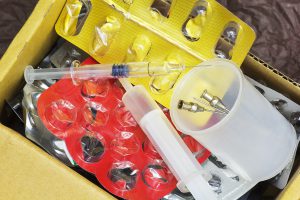 On-call medical waste management services are for when you need an emergency or irregularly scheduled pickup of medical waste. Simply find the best quote for your location, and a pick up will be scheduled for when it is most convenient for you. This service is identical to the regularly scheduled services but with an impromptu service.
All of our service options are executed at the highest and most secure level. Get free quotes today!
Get Free, No Obligation Quotes on Medical Waste Disposal Services in Sacramento
Medical Waste Pros Sacramento makes finding a reliable and affordable contractor fast and easy. We make sure to keep your household or business safe with a high-quality expert to do the work for you. Give us a call at (916) 277-9025 or fill out the form on the right to get started.