Proper Medical Waste Disposal
Medical waste disposal can be confusing and intimidating when you are handling the work yourself. Improper disposal can lead to legal and health ramifications.
Avoid common mistakes with medical waste disposal by following these rules of thumb: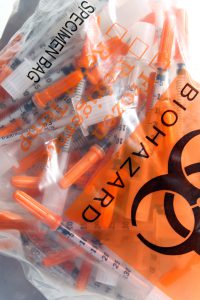 Don't move medical waste to a different location. Whether your facility relocates anywhere in Orlando, it is much safe to schedule a pickup by a qualified medical waste service to transport your waste for you.
Don't place alcohol, aerosols, or any other chemicals into medical waste. Certain chemicals and different types of medical waste are considered hazardous. Be sure to get an expert opinion on disposal of chemicals you may have collected, regardless of how small the volume.
Don't discard pharmaceuticals into other types of medical waste. Pharmaceuticals should have their own specifically designed containment units in order to ensure safe disposal.
Don't leave medical waste containers open. Also, make sure to seal any full waste containers so that they don't topple and spill infectious contents.
Don't ignore required training for handling medical waste required by OSHA. Lack of training causes unnecessary risk to those ignorant on proper protocols.
Medical Waste Pros Orlando can provide you with peace of mind in knowing that all your medical waste disposal is done safely, in a timely fashion, and with compliance of all regulations of the state. We can also provide some education on proper protocol for your organization.
Find a disposal expert in Orlando today by giving us a call at (407) 965-5096.
How Can I Dispose of Medical Waste in Portland?
One critical thing to remember is to never flush your medical waste down the toilet. This not only puts the sanitation and sewer works at risk, but also janitors and the community that the water system is connected to. Take steps to properly dispose of the medical waste yourself, or you can use one of our convenient services including:
With regularly scheduled pickups, a local provider will schedule a convenient time to pick up your medical waste and dispose of it for you. Completely customized to fit your schedule, this option is a great way for organizations who accumulate a significant amount of waste to dispose of that waste conveniently and timely.
All pickups are tracked for your security, followed with a certificate of destruction.
If your organization produces a smaller amount of medical waste, the mailback program is convenient and affordable disposal option. Medical Waste Pros Orlando will supply you with everything you need such as containers, liner bags, shipping containers, and postage.
As long as it is properly sealed and in acceptable containers, any medical waste can be shipped. Items such as sharps, soft waste, mercury, amalgam, and more are allowed for the mailback program.
For emergency or occasional pick up of medical waste situations, the on-call medical waste management service can be requested for immediate service. This service mirrors our regularly scheduled medical waste disposal service excluding the impromptu service appointment.
Whatever your organization requires, Medical Waste Pros Orlando can find the service most suitable for your needs. Get free quotes today!
Get Free, No-Obligation Quotes on Medical Waste Disposal Services in Orlando Today
Disposing of your medical waste can be made simple with Medical Waste Pros Orlando. We will work to find an experienced and affordable service provider in your local area. To get started, fill out the form on the right, or give us a call at (407) 965-5096 to receive your free quote in minutes.