Proper Medical Waste Disposal in Miami
If you produce medical waste, it is important to know how to properly handle and dispose of it, and then continuously execute the proper steps. The safety of your employees, patients, and the general public is at risk if you don't.
Here are some tips to help ensure you are engaging in the most effective waste management processes. These will help keep your community and your environment safe:
Don't Leave a Waste Container Open – If medical waste is left unsecured, it risks contaminating other items, or worse, spilling its contents and creating a mess that someone will have to clean up, putting them at risk as they handle the waste.
Don't Move Medical Waste to a Different Location – Medical waste transportation is heavily regulated and is only allowed by permitted haulers. Even if you relocate your office across the street, call in a professional to move your waste for you.
Don't Mix Your Medical Waste with Regular Waste – Any item that comes in contact with medical waste, even if it itself poses no threat, automatically becomes medical waste. Avoid mixing non-medical waste items with medical waste to reduce the amount of hazardous or potentially infectious waste you generate.
Don't Mix Alcohol, Aerosols, or Chemicals with Medical Waste – Some chemicals are marked as hazardous and require special treatment. If you have chemicals or other questionable items to dispose of, contact a local Miami professional before taking action to ensure you are following the law and keeping it safe.
Do Participate in Regular Training – Training sessions on how to handle medical waste help tremendously with safety efforts. The Occupational Safety and Health Administration has developed trainings specifically around blood borne pathogens that every employee should be trained on yearly.
Laws exist on the local and federal levels pertaining to the safe disposal of potentially harmful waste, and medical waste falls within that category. All businesses and even homes that produce medical waste must comply with these laws or face the consequences.
Medical Waste Pros Miami will help you stay in compliance and keep your community safe. Our top priority is to connect businesses looking to properly dispose of their medical waste to qualified providers. Let us help you find the best solution today.
Call us at (786) 709-9742 for free quotes on services in your Miami neighborhood.
How Can I Dispose of Medical Waste in Miami?
Disposal techniques are precise, and vary depending on the type of waste being produced. It's important not to flush any kind of medical waste down the drain or throw it out with the normal trash. Doing so puts janitors, sewage workers, water treatment workers, and the general public in harm's way.
When it comes to proper disposal, there are several services offered in Miami to help you stay on track: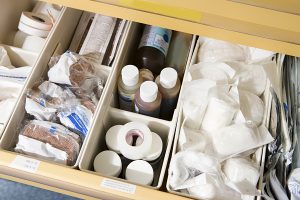 If your organization consistently produces medical waste, we can help you manage it with regularly scheduled pick-ups. These pickups are on a preset schedule, determined by the amount of waste you generate, and can be set for any frequency.
Daily, weekly, monthly, or even annual pickups can be scheduled to fit your needs. You will be given the proper containers, and a professional driver will pick up your waste and dispose of it correctly and efficiently for you.
Mailback services work best for companies that produce small amounts of waste. It's important to note that any kind of waste can be mailed, it just needs to be in the proper container. Mercury, amalgam, sharps, soft medical waste—anything can be shipped as long it is done safely.
This service gives you the flexibility of sending in your waste for disposal whenever you need to. You are given everything you need, from the shipping container to the waste container to the prepaid postage. All you do is follow the instructions, put your package in the mail, and get back to work.
On-call services are similar to regularly scheduled pickups, expect they aren't regularly schedule. This service offers you a container, you fill it up overtime, and once its full you call your disposal provider for pick up.
This option is more flexible than regularly scheduled services, and is a good choice for companies who don't consistently produce waste at an even rate, or are looking to cut down on disposal costs through fewer pickups.
These options work for businesses in any industry, and can work for companies located in remote areas. With these services available, there are no excuses for improperly handling your medical waste. You can even get free quotes on services before you commit to a contract.
Get Free Quotes on Miami Based Medical Waste Disposal Services Today
Don't endanger your community or environment, set up a waste disposal plan to manage your waste safely. Medical Waste Pros Miami partners with several Miami based contractors, all of which are qualified and capable of handling all kinds of medical waste.
To get free quotes on services across Miami, call us at (786) 709-9742 or fill out the form on the right. Within minutes we will connect you to local waste disposal companies who are ready to help you manage your waste.