Proper Medical Waste Disposal in Austin
Since there are several different types of medical waste, it can be difficult to stay on top of managing the waste in any workplace. If medical waste is disposed of improperly there can be serious implications. Because of this, it is critical to have the proper procedures and steps in place to handle medical waste disposal properly.
There are several good rules of thumb to abide by if you want to stay in compliance with the law and keep your staff and community safe:
Keep Pharmaceuticals Separate from Other Types of Medical Waste – Pharmaceuticals do not degrade over time, which is why they must be separately and specifically disposed of. Don't mix your expired pharmaceuticals with other types of medical waste—put them in separate, clearly labeled containers.
Don't Transport Your Own Medical Waste – There are many laws governing the legal transportation of infectious or hazardous waste. To play it safe, if you need to move your pharmaceuticals (even to a relocated office across the street), utilize a permitted medical waste hauler to move your materials for you.
Don't Leave Medical Waste Containers Open or a Full Container Unsealed – To help keep your office clean, tidy, and safe, make sure your medical waste containers are closable to keep the contents safe when not in use, and sealable so that when the container is full, it can be sealed completely to avoid any tampering or spills.
Don't Mix Alcohol, Aerosols, or Any Other Chemicals with Medical Waste – Certain chemicals and some medical wastes are classified as hazardous and require specific disposal. Be sure to carefully segregate your medical waste, and get the opinion of an expert to be safe.
Participate in Regular Training – The Occupational Safety and Health Administration (OSHA) requires yearly, documented training on bloodborne pathogens for every employee at an organization that produces or handles materials containing disease-causing germs. Failing to engage in training creates uneducated employees and puts your facility at risk of exposure to potentially infectious diseases.
Federal, state, and local regulations are created to ensure organizations are following the proper procedures when it comes to the disposal of medical waste. This ensures that any items used in your home or business that contain or create medical waste are disposed of properly.
Medical Waste Pros Austin will help you figure out what items relation to medical issues can we thrown away and which hazardous items need to be disposed of properly to keep you in compliance with the regulations. To find a disposal expert in Austin, call us today at (512) 354-4320, or fill out the form the right!
How Can I Dispose of Medical Waste in Austin?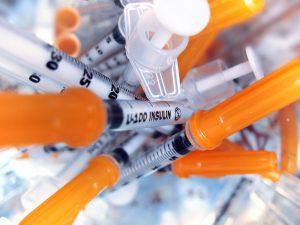 To safely dispose of your medical waste in Austin, make sure you are not throwing out loose Sharps into random trash cans and avoid flushing any type of medical waste down the toilet. Anytime this happens you are putting sanitation works, janitors, and even your family at risk of accidental exposure.
Abide by all Texas laws and avoid putting the general public at risk by taking steps to properly and safely manage your medical waste. There are several ways to safely dispose of this type of waste:
Regularly scheduled pickups best serve businesses that produce large amounts of medical waste on a regular basis. The local provider you partner with will help determine the frequency of pickups, and supply you with properly sized containers to store your waste in-between visits.
Every time your waste is pickup up it's tracked, and you always receive a detailed manifest of the transportation process to increase accountability and reliability.
Any kind of medical waste can be shipped for disposal as long as it's in an acceptable container. Sharps, soft waste, mercury, amalgam, and much more is eligible for a mailback program. The main determinant that decides whether a mailback service is right for you is the volume of waste you produce.
Mailback systems are simple, convenient, and cost-effective for smaller medical waste disposal needs. The Texas service provider you select will send you a kit with everything you need—including the proper container for your waste, a liner bag, the shipping container, pre-paid postage, and instructions.
If your facility deals with frequent emergencies that require immediate medical waste cleanup and disposal, or if your business produces very small amounts of medical waste, on-call services are right for you.
On-call medical waste services are a type of pickup service performed on an as-needed basis. Medical waste can typically be stored indefinitely if you have space, so small amounts of waste can sit and accumulate overtime before needing final disposal.
Call Medical Waste Pros Today
Don't throw your medical waste in the trash or down the toilet and risk the health of your community. Medical Waste Pros Austin will get you connected to a reputable local contractor who will supply you with everything you need for a successful medical waste disposal management process. To get started fill out the form to the right or give us a call today at (512) 354-4320, and you will be provided with free quotes from local contractors in your area.