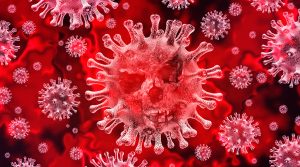 As the corona virus continues to spread across the United States, medical waste companies are gearing up to collect unprecedented amounts of material. If China, South Korea and Japan are example of the demand, it's likely that there will be "mountains" of waste that needs to be sanitized and disposed.
According to The South China post, 28 cities in China, including Wuhan, are struggling to manage the increased volume of waste. "The city is producing six times its usual medical waste," says the article. During the height of the crisis, Wuhan was dealing with 240 tons of medical waste per day, versus 40 tons prior to that. In addition to building new hospitals for the influx of patients, the Wuhan government also constructed a new medical waste plant and 28 mobile medical waste units to destroy the huge amount of material.
Experts in the US say they also expect to see a significant increase in both garbage and medical waste contaminated with bodily fluids and other infectious material. They point to healthcare workers using medical supplies (masks, gloves and gowns) and disposable equipment in record numbers. Eventually, they say, all the medical gear will all need to be safely discarded.
According to the Center for Disease Control, Covid-19 waste can be destroyed the same way as regular medical waste. Typically, this means that the material is either burned, sterilized with steam, or chemically disinfected before it is sent to the landfill.
Another concern for the industry, however, is how to protect waste workers from the deadly pathogen. Federal guidelines say waste workers, including those who work in medical waste, need gloves and masks, but like many industries, companies are struggling to secure the necessary health equipment, especially masks. One of the waste trade organizations, The National Waste and Recycling Association, issued a guidance to reduce exposure to Covid-19. President Darrell Smith, however, said some members are already running low on protective masks and hand sanitizer.
Smith says his organization has asked hospitals to label bags containing coronavirus-related waste "as a sign to our waste collectors that they should use extra caution," according to a March 30 article in the Wall Street Journal.
In the United States, there are already fears about the rise in infectious waste, specifically about how many workers are going to be exposed to the potentially deadly pathogen. Waste workers in Pittsburgh, for example, are refusing to collect dangerous waste without better protection. "We're playing Russian roulette with every garbage bag that we're grabbing," Sheldo White, a waste worker told Kiro 7. "Half the people don't tie their bags, so when the stuff spills out, they tell you to pick it up. There's Kleenexes that people blow their nose and cough in."
In a March 30, 2020 article published in the Wall Street Journal, Tiffany Wiksten, manager of infection prevention and control at the Rush University Medical Center in Chicago said, "When coronavirus first emerged, some states recommended that any waste generated by patients be classified as regulated medical waste, meaning it needed treatment to be rendered noninfectious before being landfilled."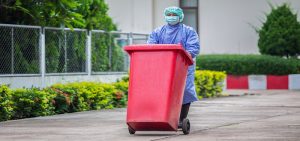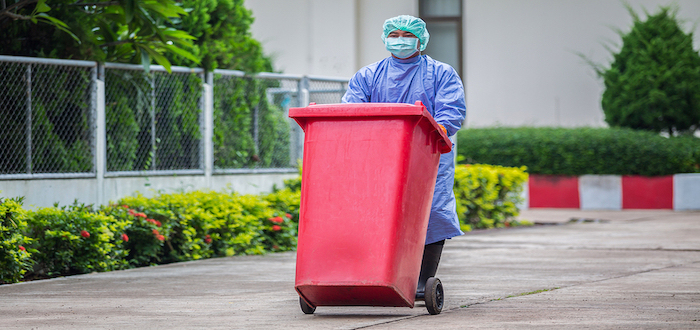 One thing that might offset demand is the significant drop in elective medical procedures. Across many states, governments have shut down all dental offices and elective surgeries, which contribute to the medical waste stream.
Smith, of the National Waste Association, reports that federal government stimulus package designates waste haulers, including medical waste vendors, as critical infrastructure. That should help them mitigate the crisis.
"There's a history of public health suffering when waste collection is disrupted. We just want to keep trucks on the road," Smith told the Wall Street Journal. "We are an industry that's easily forgotten about until things aren't working, and then we're quickly remembered."