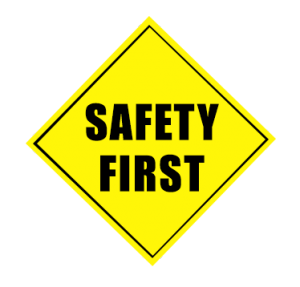 A comprehensive safety plan is an important part of any workplace. This is especially true when medical waste is involved. OSHA requires employers to have written safety compliance plans that are specific to the industry, company, and location where employees are working.
These plans set out procedures and regulations that help make sure that employees have a safe environment to work in and that employers are complying with government laws.
What Does a Safety Plan Include?
"Safety plan" can either refer to one of many individual documents addressing particular workplace hazards, or a single document that addresses those hazards and more.
In general, however, a safety plan is a broad set of rules that an employer can use to establish the proper procedures in the case of certain events. Bloodborne pathogens training, proper waste disposal, and hazards communication are all areas that a safety plan may cover.
In addition, a strong safety plan will include information relating to safety inspections, preventative maintenance, and first aid procedures, as well as for recordkeeping guidelines and what will happen in the case of an accident or injury.
In sum, a safety plan is a single document that members of a workplace can reference to find guidance when handling hazardous materials, addressing a workplace injury, or working to keep the work environment safe and as risk-free as possible.
When Do I Need a Written Safety Plan?
OSHA regulations do not require a written plan for every kind of workplace hazard or practice. Knowing which is which can be complicated, though, because it isn't always clear when a written plan is required. The following must generally be addressed in a written plan:
Hazard communication (hazcom) training

Hazardous waste management, including emergency response protocols

Electrical hazards, including lockout or tag out procedures

Chemical hazard handling and response standards

Bloodborne pathogens training

Personal protective equipment (PPE) rules
OSHA does provide sample safety plans for a variety of work environments, however, it is important to note that those samples don't adequately cover all possible scenarios.
Need Help Putting Together a Safety Plan?
Medical Waste Pros partners with a nationwide network of training services and safety experts to help you ensure you're prepared to handle any potential risks in your workplace. For free quotes in your area, fill out the form to the right or give us a call at (888) 755-6370.