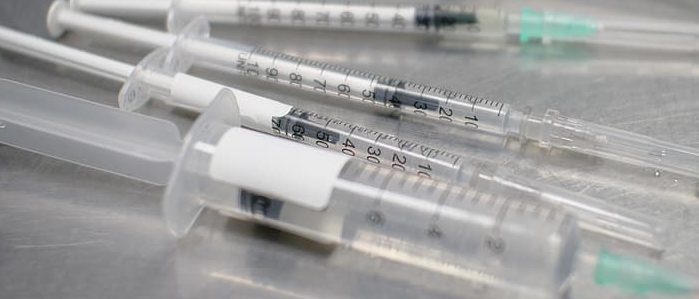 Carefully managing sharps is important for public safety. Whether your business generates sharps or you need to provide sharps disposal for your customers, you have a legal obligation to run a consistent sharps disposal program. A reliable program prevents needlestick injuries and the spread of disease.
Businesses should take the time to learn the proper steps of sharps waste disposal. Understanding the steps will ensure that your company is effectively managing its waste, staying within compliance, and minimizing risk to employees and customers.
Understanding Sharps Requirements
Sharps are used to treat medical conditions or provide medical services. They are dangerous because of their ability to cut or penetrate the skin and their potential to harm and/or spread bloodborne pathogens. For public safety, there are many regulations regarding safe sharps handling and disposal.
Businesses should be aware of the following agencies that regulate sharps disposal:
The Occupational Safety and Health Administration (OSHA)
OSHA created the Bloodborne Pathogens Standard to protect workers from the risk of exposure to bloodborne pathogens, such as HIV and Hepatitis B. The Needlestick Safety and Prevention Act of 2000 further specified the requirements of employers to minimize or eliminate exposure to contaminated sharps for their staff.
The US Environmental Protection Agency (EPA)
The EPA played a major role in developing the framework for medical waste regulation. Today, it regulates specific requirements for waste incinerators and waste treatment technologies, rather than medical waste management.
The Food and Drug Administration (FDA)
FDA regulations are either required or authorized by statute. Generally, they address a specific problem or known health hazard. The FDA shares recommendations for safe sharps handling and disposal, including the use of FDA-cleared sharps containers.
The Department of Transportation (DOT)
DOT regulations are related to the packaging and transportation of sharps. They assign responsibility to the shipper for training employees to handle and package waste properly. Sharps must be packaged in puncture-resistant containers and labeled properly.
The Center for Disease Control (CDC)
The CDC issues guidelines for infection control. They provide a number of strategies for handling sharps safely and how to maintain compliance through difficult situations like supply shortages.
State Requirements
Most regulations governing medical waste are defined at the state level. State departments of health determine the definitions for regulated waste and how they should be handled. State standards can vary significantly, so it is important to understand the regulations for your area. Model guidelines can be found here.
Proper Sharps Protocol
Creating a sharps disposal program requires intentional planning, training, and implementation. Follow these steps to guide proper sharps protocol for your organization:
Step One: Learn about the regulatory requirements in your area.
Understanding medical waste regulations and definitions is critical in maintaining compliance. Employees that may come in contact with potentially infectious materials will need to be trained annually.
Bloodborne Pathogens Training teaches your staff how to use universal precautions, handle post-exposure follow-up, and keep proper records. OSHA entitles employers to provide a safe work environment, which includes safety and health training.
Step Two: Select safe sharps containers.
FDA-approved sharps containers are made of rigid plastic and are leak-resistant. They must have a tight-fitting, puncture-resistant lid and remain upright and stable during use. They should be properly labeled with a red biohazard symbol to warn of hazardous waste inside. Disposable and reusable containers are available and should be handled accordingly.
Step Three: Install and maintain sharps containers.
Containers should be installed where sharps are generated. Locations should be based on accessibility, convenience, and usage. Wall-mounted sharps containers should be installed 52" to 56" from the floor, within arm's reach and below eye level at the point of use.
Your sharps disposal program should include routine container replacement to avoid overfilling. A waste management provider can regularly pick up full containers and provide clean, empty replacements.
Step Four: Dispose of sharps containers.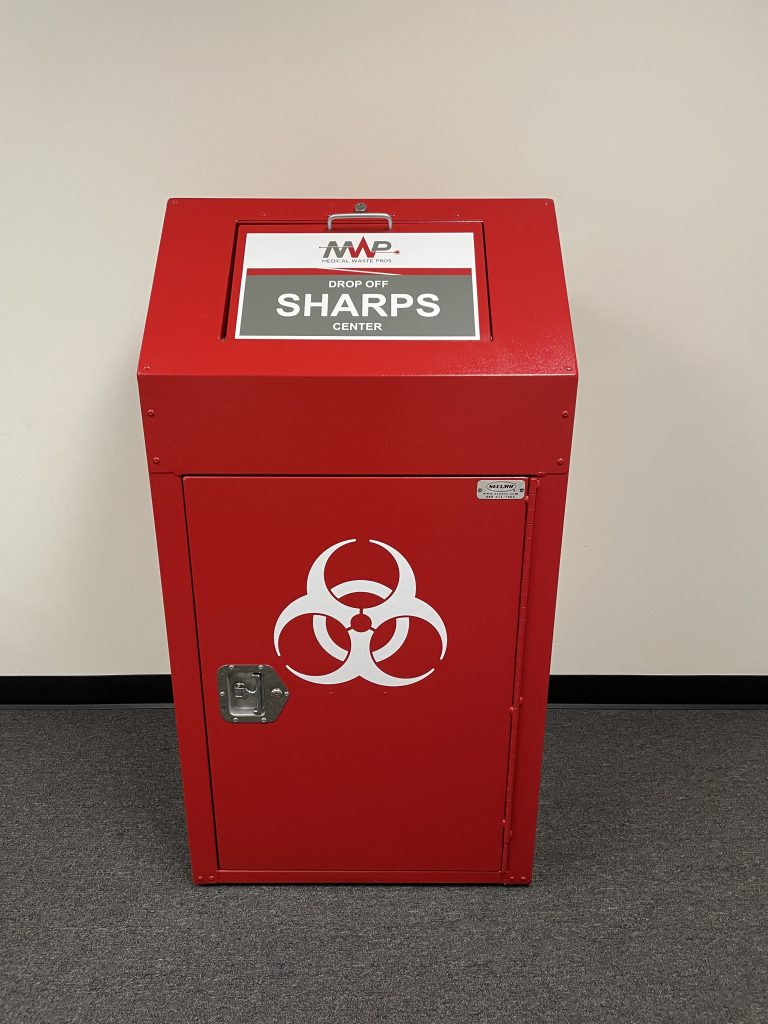 Partner with a reliable medical waste management company to safely dispose of sharps containers. We offer a number of service options to meet the needs of your business.
Mail back services are ideal for small-scale sharps generators. Your provider will instruct you on how to safely package your sharps and schedule pickup. Mail back services are quick and affordable, keeping you within compliance without stress.
Drop off services provide an easy disposal option that can be used at your convenience. Find a collection site near you and drop off your containers when needed.
Large quantity services are available for high-volume sharps generators. Pick up can be scheduled on a consistent basis to ensure your sharps are handled properly.
Maintain Sharps Compliance with Medical Waste Pros Today
Shred Nations partners with medical waste disposal experts across the country. We will provide free, no obligation quotes on compliance training and disposal services for your business. Begin today by calling us at (888) 755-6370, filling out the form, or contacting us directly using the live chat. We look forward to helping your create a safe sharps disposal program.