Dealing with bloodborne pathogens and other potentially infectious material (OPIM) is a necessary part of the job for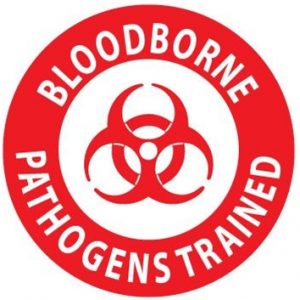 many health professionals. As a result, they may be exposed to health hazards including Hepatitis, HIV, and malaria.
In the United States, the Occupational Safety and Health Administration (OSHA) is responsible for the bloodborne pathogen safety standards used to manage and minimize any risk. Using the best practices when handling infectious materials and other hazards is important to keep medical professionals at all levels safe.
What is Bloodborne Pathogens Training?
Employers must provide annual bloodborne pathogens training for all employees with reasonably anticipated occupational exposure to blood or other potentially infectious material. 
This includes a variety of healthcare workers, including physicians, nurses, medical students, paramedics, but also non-medical workers including teachers and other school staff, janitorial staff, and law enforcement or other emergency personnel.
Bloodborne pathogens training is designed to give employees information about how to handle bloodborne pathogens, including exposure control plans, universal precautions, personal protective equipment (PPE), post-exposure follow-up, hazard communication, and recordkeeping.
Why Choose a Bloodborne Pathogens Certification Service
Because the OSHA standards apply anytime there is occupational exposure to blood or OPIMs, everyone from hospital employees to small practices must comply.
While private practices with few employees may be able to easily hire a training manager, larger organizations like hospitals may have hundreds or even thousands of employees. In that case, using outside training services can help save time and make the process of certifying all employees more efficient.
How It Works
Bloodborne pathogens training services are available for both individuals and organizations. In addition to online or video training courses, employees are also provided materials specific to their worksite.
Many programs allow employees to access and complete their bloodborne pathogen certification on their schedule, ensuring compliance without interfering with their duties.
When training is complete, you will receive the necessary documents to demonstrate compliance with OSHA's recordkeeping requirements, including
When the training was conducted

A summary of the material covered

The name and qualifications of the instructor(s)

The names and information of all employees enrolled in the training
Get Free Quotes On Bloodborne Pathogen Training Services
Medical Waste Pros partners with training services that can help you maintain OSHA compliance when handling all types of medical waste. For free quotes on bloodborne pathogen training in your area, fill out the form to the right or give us a call at (888) 755-6370.