Proper Medical Waste Disposal in Philadelphia
Any Philadelphia workplace that produces medical waste needs to find waste management system that works. There are several different types of medical waste that all need to be handled differently, and not complying with local and federal laws can have serious implications.
Using a service provider to help you dispose of your waste will help keep you in compliance, but there are also some general rules of thumb that will help ensure you keep your employees, patients, and the general public safe:
Don't Move Your Medical Waste – During relocations, do not move your own medical waste. The Department of Transportation has strict rules determining who can transport medical waste—use a permitted hauler, otherwise you will be 100% liable for any accidents.
Don't Mix Medical Waste with Aerosols, Alcohol, or Other Chemicals – Hazardous waste requires special treatment—never mix it in with other types of medical waste. Segregating waste keeps costs down.
Don't Discard Pharmaceuticals with Other Medical Waste – Pharmaceuticals should be separated from other types of waste due to their inability to decompose easily. Keeping them separate allows them to be treated in a specific way.
Don't Leave Medical Waste Containers Open – Leaving medical waste containers open on unsecure puts the contents at risk of contaminating other objects or spilling. Optimize your waste storage procedure by securing the containers.
Do Participate in Regular Training – The Occupational Safety and Health Administration (OSHA) requires yearly, documented training on blood borne pathogens for any employee who might come into contact with infectious substances. Train everyone who will potentially interact with medical waste to improve your office's waste management.
To keep the workplace safe there are legal guidelines at the state and federal levels outlining how to properly dispose of medical waste. Medical Waste Pros Philadelphia will help you stay in compliance.
Our partners are trained in proper handling and disposal techniques. They are permitted to transport waste and have years of industry experience. If you need help from an expert, call us today at (215) 352-4266 or fill out the form on the right for free quotes. We will connect you to our network of providers, and you can select the best fit for your Pennsylvania business.
How Can I Dispose of Medical Waste in Philadelphia?
When disposing of medical waste, the #1 rule to remember is: never flush sharps, pills, or other medical waste down the drain. If you do you are putting sanitation workers, sewage treatment workers, and the community's water supply in harm's way.
To dispose of your medical waste the right way, consider any of these services:
Regularly Scheduled Medical Waste Disposal
If you regularly generate large volumes of medical waste, this service is for you. Your provider will set you up with large containers for each type of medical waste you produce. You fill up the container with your waste, and on a preset schedule your disposal company visits your location to pick up your waste and dispose of it for you.
These services can be scheduled at any frequency. Whether you need waste picked up daily, weekly, monthly, or even yearly—you can rely on scheduled services.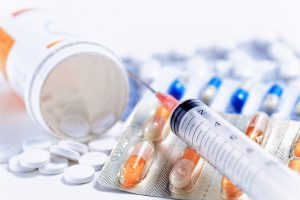 On-Call Medical Waste Management Services
On-Call services are a convenient disposal method, especially if your waste generation is erratic. On call services allow you to collect your waste and call in when you need it picked up. In this case, your service provider will be in within a few days to pick up your waste and dispose of it for you.
Since most medical waste can be stored indefinitely, this is a simple solution for small waste generators who can store waste for long periods of time.
Any type of medical waste can be sent through the mail, provided it's in the proper container and properly labeled. A mailback service is simple and easy for small waste producers.
Your service provider will provide everything you need, from a shipping box with a prepaid label to the waste container and instructions. Mercury, amalgam, sharps, soft medical waste, and even liquids can all be mailed as long as you follow the instructions to a T.
With so many options available there is no excuse to not properly dispose of your medical waste. Our local provider will help you set up your system and keep it going by taking care of the disposal for you. Get free quotes on these services today!
Get Free, No Hassle Quotes on Medical Waste Disposal Services in Philadelphia Today
Don't throw medical waste in with the regular trash. Medical Waste Pros Philadelphia will help keep your business in compliance with the law while keeping your community safe. Proper medical waste disposal is not something to be taken lightly, use the help of an expert.
Call us today at (215) 352-4266 or fill out the form on the right to get connected to the Philadelphia contractors in our network and receive free quotes on their services.