Proper Medical Waste Disposal
Setting up a medical waste management system can be complicated, and adhering to specific rules designed to regulate medical waste disposal takes careful planning. All homes and businesses that produce any amount of medical waste have to comply with federal and local laws.
To ensure you are effectively managing your waste, here are some tips to help you organize your office and keep you employees, patients, and environment safe.
Perform Regular Employee Training – The Occupational Safety and Health Administration (OSHA) requires yearly, documented training on blood borne pathogens for all employees who may be exposed to infectious germs. Ineffective training will result in more workplace accidents and an increased risk of improper disposal practices.
Don't Leave Medical Waste Containers Open – As waste is collected, the container it's held in should be kept closed at all times. Keeping a collection container open risks contamination, employee and patient exposure, and spillage.
Keep Pharmaceutical Waste Separate from Other Medical Waste Types – There are several distinct types of medical waste, each with their own disposal requirements. Keep all different types of waste segregated in specially designed containers for easy, efficient final disposal.
Don't Transport Your Medical Waste – If your business relocates anywhere in Texas, even just across the street, don't take your waste with you. The Department of Transportation and the United States Postal Service both have regulations regarding who can and how to transport potentially dangerous or infectious substances. If an accident occurs, you will be 100% liable.
Keep Alcohol, Aerosols, and Any Other Chemicals Out of Your Medical Waste – Types of waste need to be segregated, and certain chemicals are classified as hazardous and need to be kept separate from normal medical waste.
Keeping your community safe is the top priority to keep in mind when creating an office medical waste disposal process. Having a plan and creating disposal steps and procedures will ensure a smooth waste collection process, and Medical Waste Pros Dallas will help you find a permitted disposal service in your area to finish the job.
Our partners have been in the industry for years and will provide excellent service at an affordable rate. Call us today (214) 347-9380 to be connected to our Dallas network.
How Can I Dispose of Medical Waste in Dallas?
Proper medical waste disposal is necessary to keep the general public safe. Never flush pills or other medical waste items down the drain. This infects the water system and puts sanitation workers, janitors, and your community at risk.
To keep everyone, including the environment safe, use a medical waste disposal company to dispose of your waste for you. There are several service options you can choose from:
On-Call Medical Waste Management Services
If you generate medical waste at uneven rates, or just like to ensure your collection bins are completely full before having your waste picked up, on-call services are for you.
With this option your provider supplies proper containers for your waste, you fill them up over time, and once they are full you give them a call to pick up your waste. This service is provided on an as needed basis.
Mailback/Shipping and Return Kits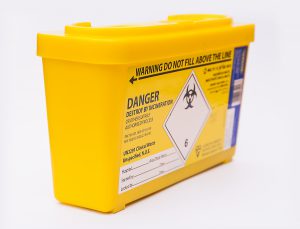 If you generate a small amount of waste, or don't want to pay pick up fees, a mailback service may suit your needs. Your provider will send you a mailback kit, which includes everything you need—the waste container, a shipping container, a prepaid shipping label, instructions and more.
You simply collect your waste over time, and when your container is full, pack it up and put it in the mail. Your service provider will take care of the rest.
Any type of waste can be sent through the mail—amalgam, mercury, sharps, soft waste, even liquids—provided they are in a suitable container.
Regularly Scheduled Medical Waste Disposal
If your practice is constantly producing large volumes of waste, regularly scheduled (or ongoing services) are for you. With this type of service, you are given large collection containers to distribute throughout your location. Then you schedule pickup services for the future, which can be schedule on any frequency—daily, weekly, monthly or even annually.
With this system you never have to worry about your waste management getting out of hand—drivers are automatically sent to pick up your waste and do the dirty disposal work.
With the various options available through medical waste disposal services providers, you'll be sure to find one that fits your needs. Get free quotes on whatever service you need from a reliable contractor near you today.
Get Free, No-Obligation Quotes on Medical Waste Disposal Services in Dallas Today
Dispose of your medical waste responsibly with help from a service provider. Our partners across Dallas use the proper containers and will take care of your waste so you can focus on your patients. Fill out the form on the right or call us at (214) 347-9380 for free quotes. We will connect you to our network of reliable Dallas waste disposal providers in minutes.