Proper Medical Waste Disposal in Minneapolis
Figuring out the best system for waste management can be a pain. With so many different categories of medical waste, and with each type needing special treatment, just getting organized can be a huge task. Medical Waste Pros Minneapolis strives to make the entire process easier for organizations across Minnesota.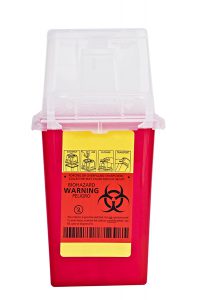 Here are a few good rules of thumb that any practice can implement to increase the efficiency and safety of their current medical waste management procedures:
Keep Medical Waste in Secure Containers

– Medical waste can easily contaminate other materials. To keep your office clean and safe, it's important to keep medical waste separate from other types of waste, and collect it in bins that can close to reduce contamination.
Don't Transport Your Medical Waste

– There are rules set forth by the Department of Transportation that stipulate who can and cannot transport medical waste. Avoid accidents and fines by using a permitted hauler.
Keep Pharmaceutical Waste Separate

– Pharmaceuticals have high concentrations and do not degrade on their own. Keep these items separate from other types of medical waste to ensure they are properly disposed of.
Don't Mix Alcohol, Aerosols, or Chemicals with Medical Waste

– Some chemicals are considered hazardous and require special handling. Never mix them in with common medical waste items—it could endanger those who handle it.
Hold Regular Medical Waste Training

– Training programs have been created by the Occupational Safety and Health Administration, and the topic should be covered every year for any employee who comes into contact with medical waste while on the job.
There are certain ways to organize and streamline a medical waste management procedure. Organizing your office, labeling bins, and keeping employees informed on policies will greatly reduce the number of accidents and levels of contaminate in any office.
Medical Waste Pros Minneapolis understand the difficulties involved with managing medical waste and will help you find a solution. To find a qualified expert near you, call us at (612) 255-4845. Within minutes we will get you free quotes on affordable services.
How Can I Dispose of Medical Waste in Hennepin County?
Medical waste should be handled with care—never flush it down the toilet or throw it in with normal trash. If you do you are risking the safety of anyone who handles it down the line: sewage workers, sanitation employees, janitors, etc.
Responsible disposal is easy when you work with a medical waste removal company. Here are a few of the most popular service options available in Minneapolis:
On-call services are similar to regularly scheduled services, except you call on a service provider whenever you waste container is full, rather than having pickups scheduled in advance. This service option is best if you produce waste at an inconsistent rate or want to save money by reducing the number of pickups you require.
Most medical waste items can be stored indefinitely, so if you have the space to store your waste, you can greatly reduce the number of pickups you need with this service.
A mailback system is easy and is optimal for small waste generators or remotely located organizations. Your service provider gives you everything you need, from a container for the waste, to the shipping container, to a prepaid shipping label. You just follow the instructions and ship out your waste.
Any type of medical waste can be mailed as long as it is properly contained. Liquid waste, amalgam, mercury, sharps, soft waste—just follow the directions and it will be safe. Mailback systems have the additional benefit of not requiring pickups, which reduces costs.
If you regularly generate large amounts of medical waste, this service is for you. Your provider will set you up with properly sized containers for each type of medical waste you produce. You fill up the containers, and on a preset schedule your disposal company visits your location to pick up your waste and dispose of it for you.
These services can be scheduled at any frequency. Whether you need waste picked up daily, weekly, monthly, or even annually—you can rely on scheduled services.
Whether you need your waste picked up often or just once in a blue moon, there is a service option for you. Contact us to get free quotes.
Get Free, No Obligation Quotes on Medical Waste Disposal Service in Minnesota Today
There are right and wrongs ways to dispose of medical waste. To ensure you are meeting all federal and local regulations, partner with a qualified medical waste removal company. They stay up-to-date on all current laws and use the proper containers and disposal techniques. Call us at (612) 255-4845 or fill out the form on the right for free quotes from reliable service providers near you.